Putin doesn't exist
+ Dzogchen for a self-aware Internet
Most of the ideas I work with never leave the draft stage. I'm going to try publishing these drafts, in as presentable form as I can muster, once a month here in Psychopolitica and once a week on my Patreon page.
I got the cover for this issue from a reader, Greek artist Giorgos Terzakis, who shares my view of ideas as living entities—a notion that will come up later in this month's edition. If you want to contribute art for the next month's issue, hit me up at nikita.s.petrov@gmail.com.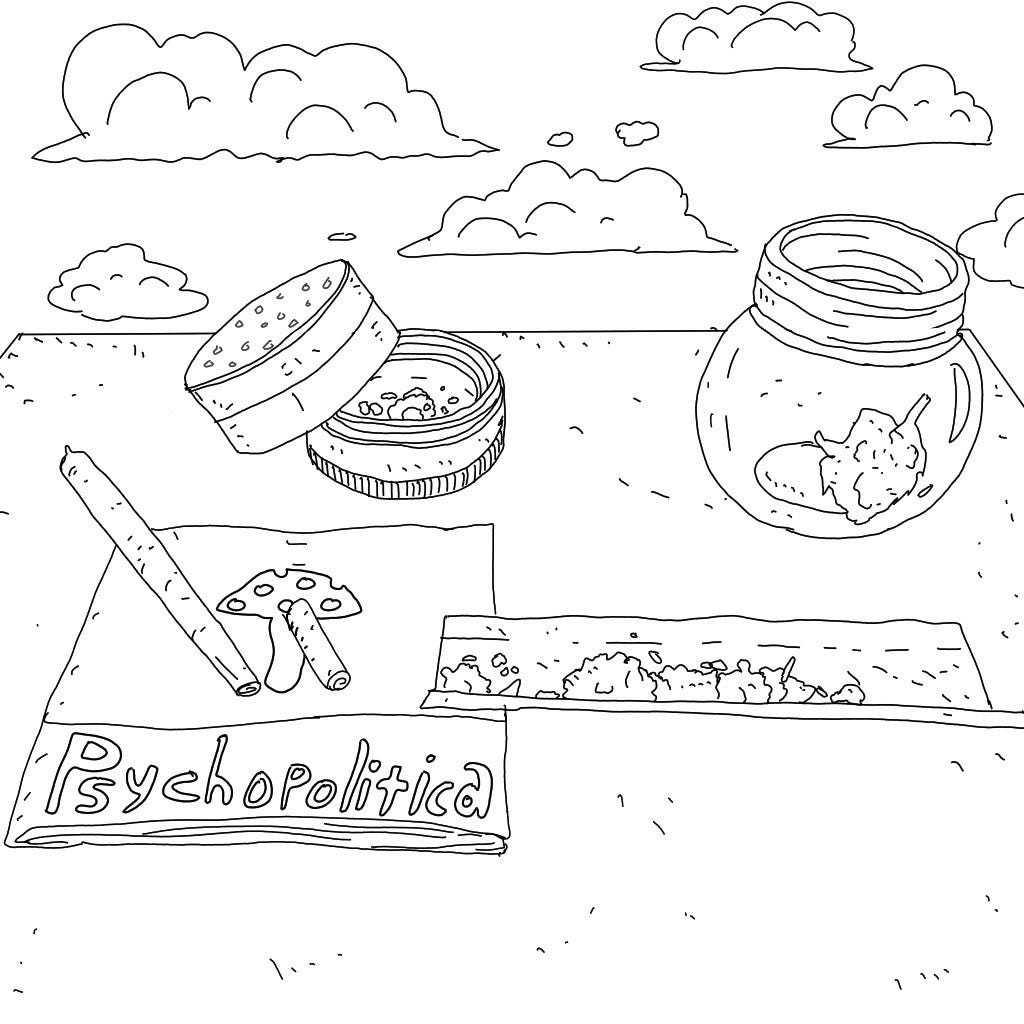 Putin doesn't exist
In the beginning of July, another reader—Garrett of the Stimulus YT channel—and I produced a little memetic animation, the Russian version of the Lofi Girl.
She is blocking out, with limited success, one of Putin's Covid addresses with "lofi beats to study / relax to" while trying to read a collection of Cosmist writing. Outside her kitchen window is Kemerovo, and on this side of it is a typical Russian kitchen: a plant on the windowsill, a Christian Orthodox calendar on the wall, a cup of tea that's getting colder, some cigs and matches, and a tin can for an ashtray. She is nor cheerful.
The idea behind the clip is that Putin's Covid speeches were less about announcing anti-pandemic policies and more about creating the same kind of mood as these lofi mixes on Youtube. Both audio streams are targeted at an audience that has worrying things on their minds—a deadly disease and its economic consequences in Putin's case, and college exams or a freelance gig in the case of the beats—and both aim to sooth their audience while keeping it alert and focused on task at hand. Neither are dense with meaningful messages. It's a vibe.
When I first started writing about this about a month ago, I wanted to do a calligraphic translation of Putin's opening remarks.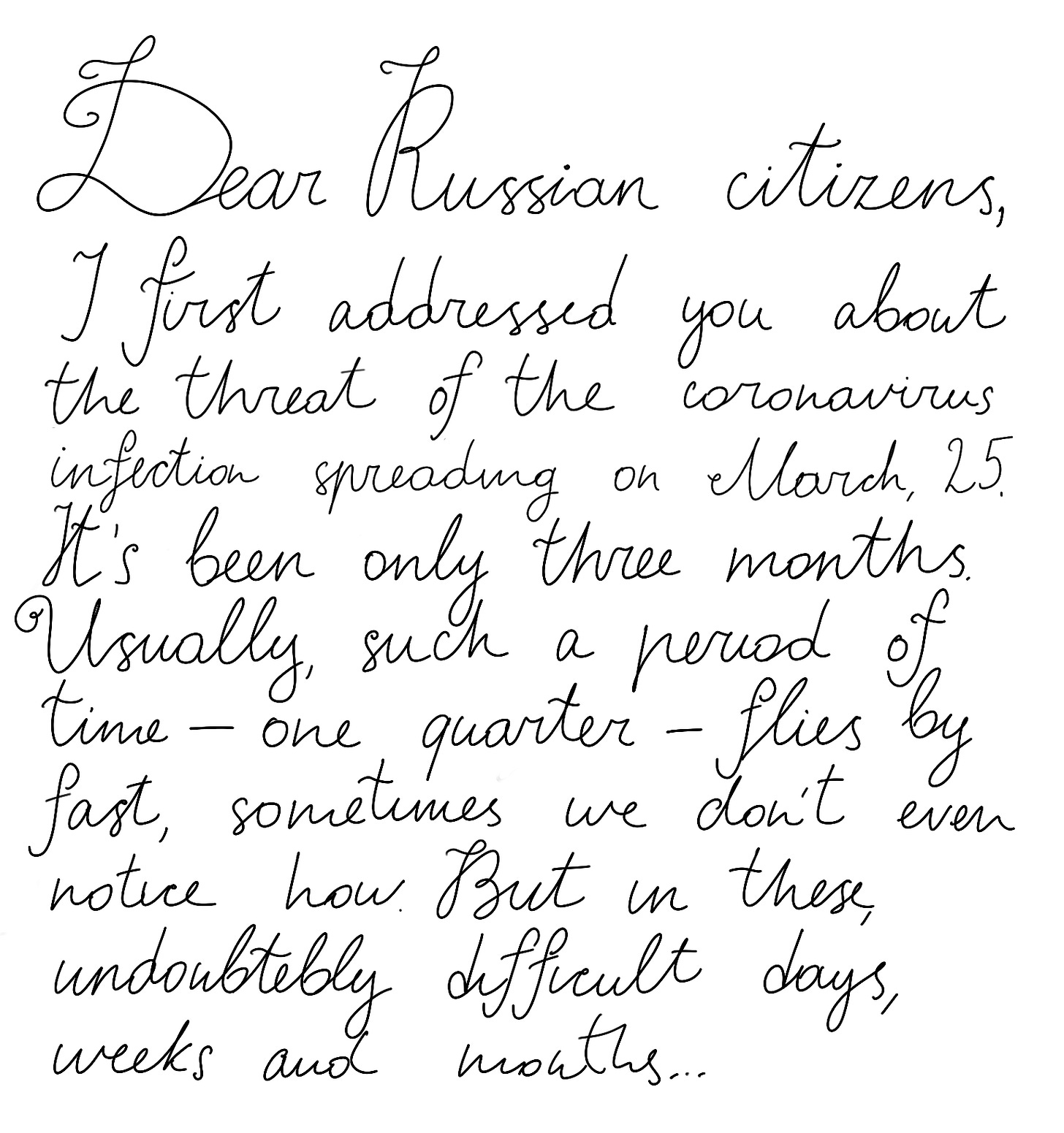 He goes on about the importance of human connection, the kindness of strangers and so on—like a sentimental grandfather who isn't planning to help, but wants us to know he feels for our struggles.
I also wanted to write out some thoughts on the "Putin doesn't exist" mythologeme. I mentioned it in an earlier issue of PsyPol and, most recently, in conversation with Gary Lachman, author of The Return Holy Russia, on my Youtube channel:
NIKITA: One of my favorite elements of the Russian political mythology—meaning, it's an idea, a version of which you can hear from a taxi driver or a person you met in a bar; and most say it jokingly, but occasionally you meet somebody who actually believes it—is the notion that Putin does not even exist.

There are versions of it. Either the original Putin is dead and has been replaced by a double; or there are several androids of different models who get in the spotlight depending on what the issue of the day is; or he's a mass hallucination, and so on. 

I think you could trace these ideas to a book written by Victor Pelevin in the late 90s, the premise of which is that everything you see in the news is CGI graphics created by—well, a low-level member of this system would be an advertiser, and as you climb higher…

GARY: Well, Surkov. Vladislav Surkov.

NIKITA: Right, Surkov is that kind of a person.

GARY: Somebody should have a bus campaign. I don't know if you know—here, people like Richard Dawkins and Christopher Hitchens, these atheists, had a campaign with the buses: "There's probably no God. Now stop worrying and enjoy your life." Somebody should do that about Putin.
In an earlier talk, from 2 years ago, Gary made a related comment about Trump:
…Another side of it is the whole interchange between reality and its representation on television and on the Net. It's a chliche by now, but the most popular thing on television is "reality TV." There are even reality television shows about people watching reality television shows, so it becomes this doubly self-reflective mirror kind of thing.

It seems that the simulacra, the simulation of reality is becoming increasingly more vivid, and more "real": HD, 3D, all this sort of thing.

So it strikes me that we're putting all this reality into the represented world, into the television, and, to put it in a funny way, it's going to get so crowded in there that something's going to pop out.

And that's what I think Trump is.

He was a reality television celebrity for many-many years in precisely the kind of position that he is in now as the leader of the country. He was the boss in The Apprentice and did exactly the same thing: hired and fired, wore the suit and looked like a very strong leader figure. He sort of popped out of that status in the represented world into the actual world. 
We also talked about the evolution of Pepe the Frog into Kek, the Egyptian god of chaos.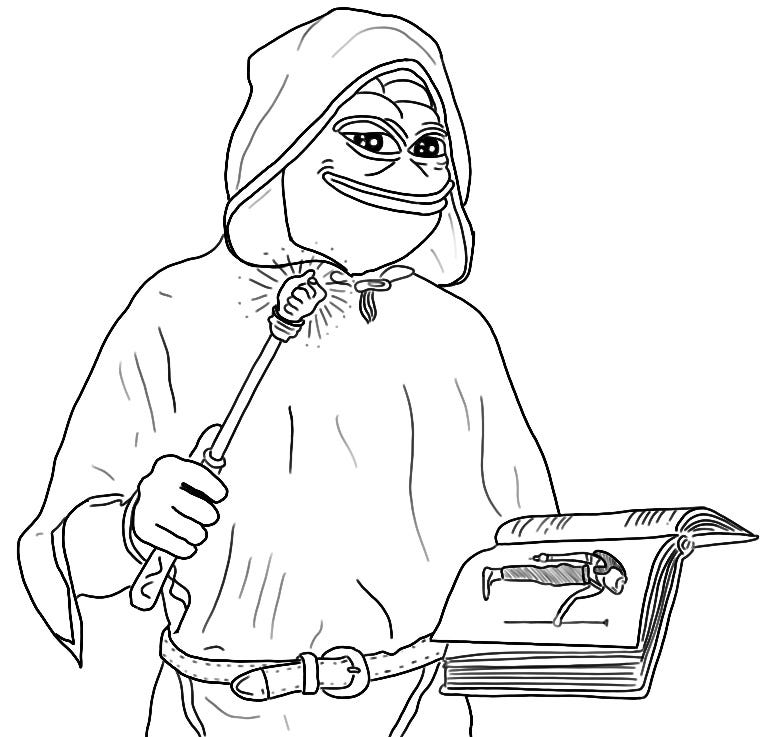 The original Kek had a female counterpart, a snake-headed deity named Keuket. The people of Hermopolis believed it was from their (and three more frog-snake couples') union that all reality came to be.
There is a corresponding saying in Russia, "a toad was once fucking a snake," which describes a conflict both sides of which are unappealing: say, if you are no fan of either Trump or the woke left, you may use this phrase to describe today's American political discourse.
I have a sketch for a clay tablet depicting Kek, in his contemporary form, and Keuket. The message is that the chaos we see in the news is like a messy—perhaps co-dependent, abusive—romantic relationship that gives life to consensus reality. (One problem with this idea is the snake lacks an explicit connection to the modern discourse. The one flimsy link I have come up with is that there is a notion of "the left eating itself", which is reminiscent of the ouroboros symbol.)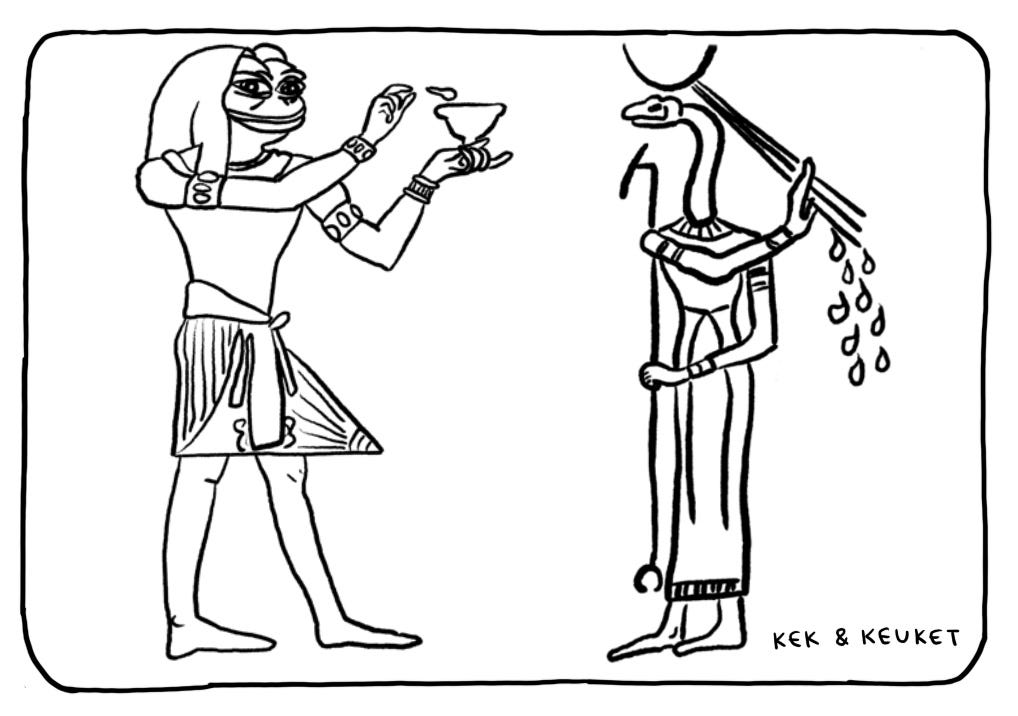 Here's a draft illustration I made for Gary's new book: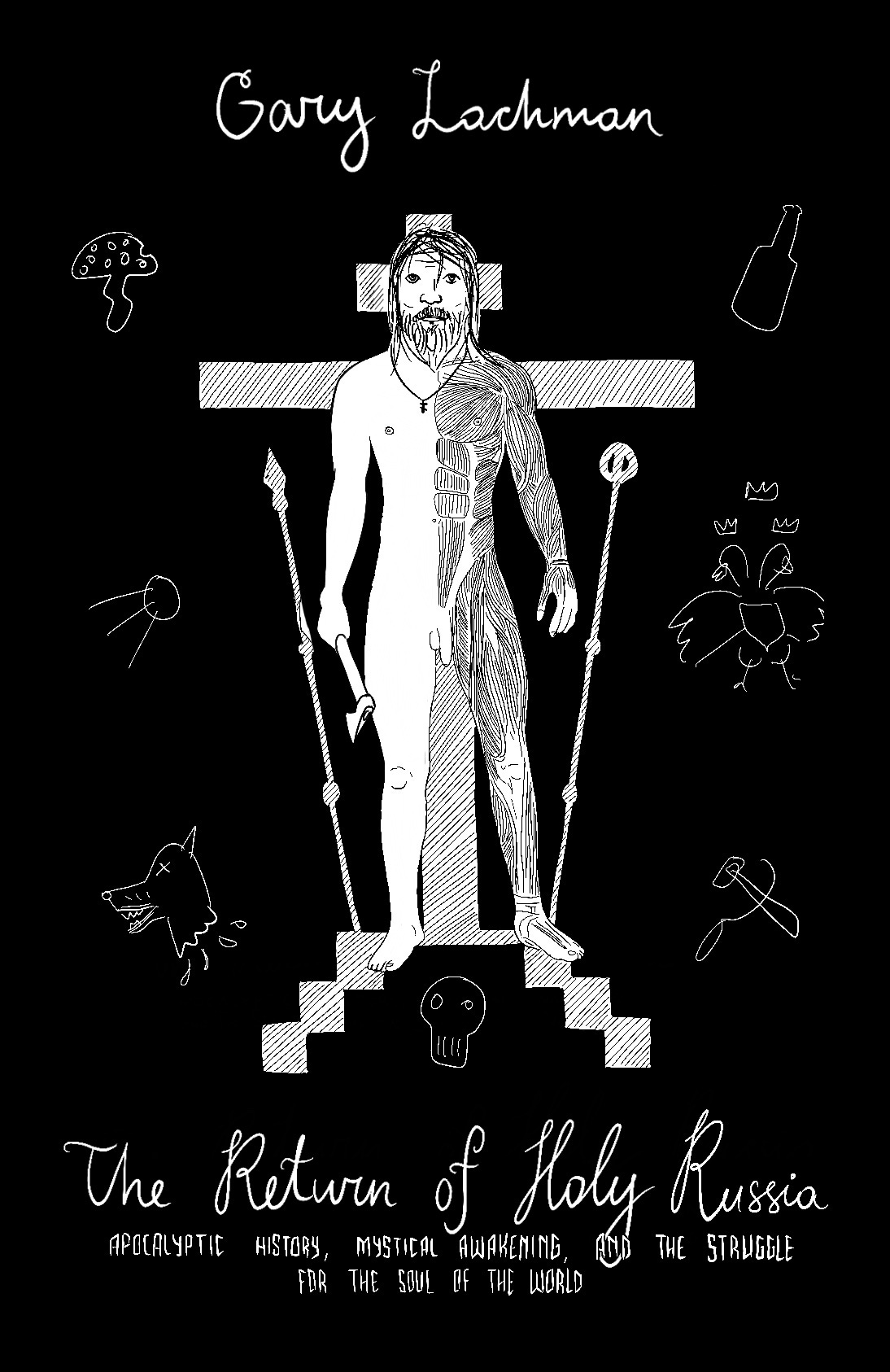 All of this relates to several elements of the "psychopolitical method" idea, which will come into the picture one paragraph down, and to a dream I recently had in a remote Russian village plagued by military helicopters.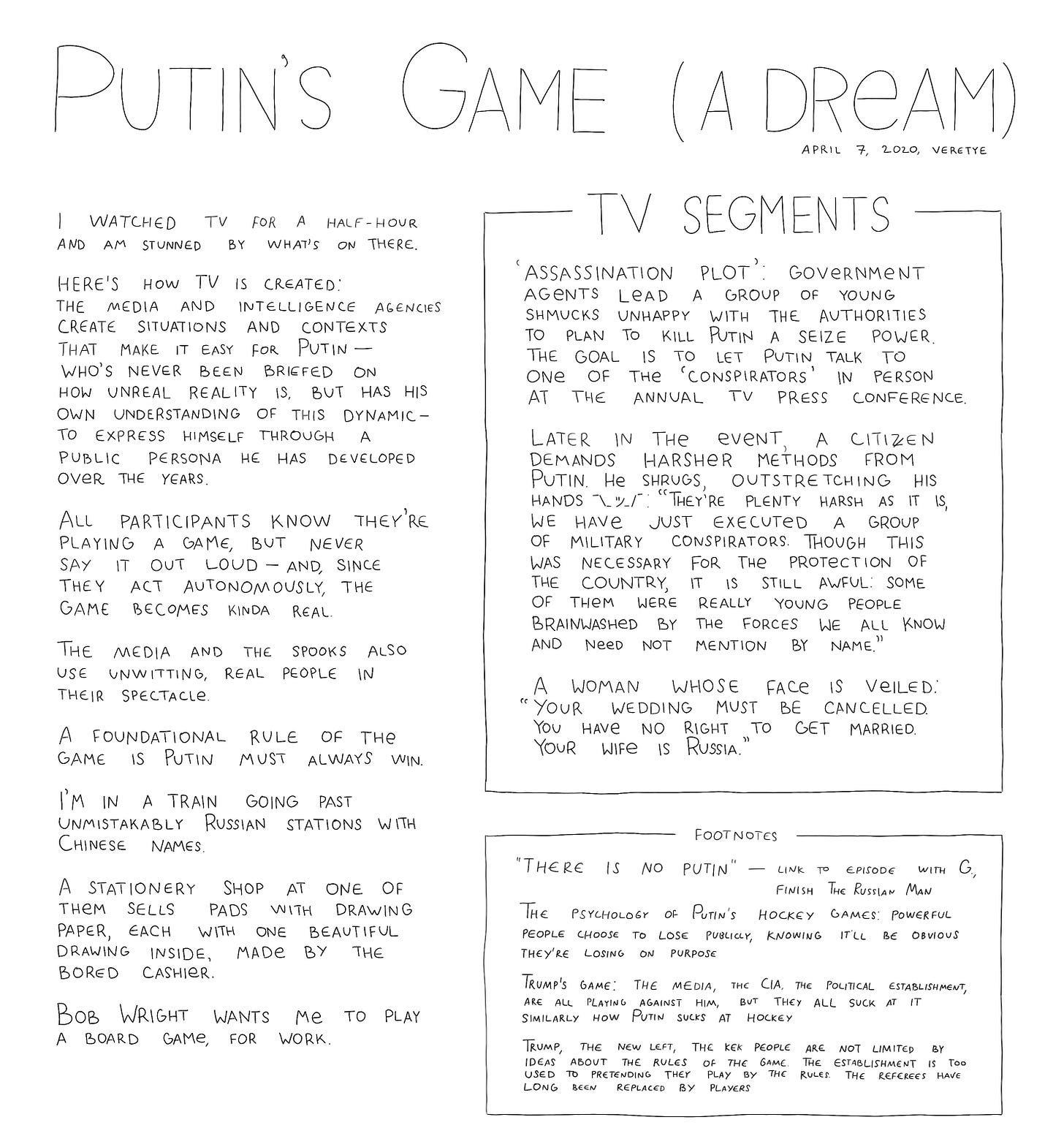 The Psychopolitical Method
For months now, I've been playing with the idea of "a psychopolitical method"—a system of views and practices that treats the inner life of the soul and the political dynamics of the society as parts of the whole, so one could apply it equally well to their personal life and the life of their city, country, the world. Things one sees in their dreams and on TV would be put on equal footing. It'd be something akin to Marxism or psychoanalysis in how they turn seemingly disparate events into a coherent picture that can guide one in thought and action.
But weirder.
I'm not sure if I want to devise this system myself or let a fictional character do it for me, so that I could refer to it in indirect ways.
Here's how the elements of this method look on my cork board: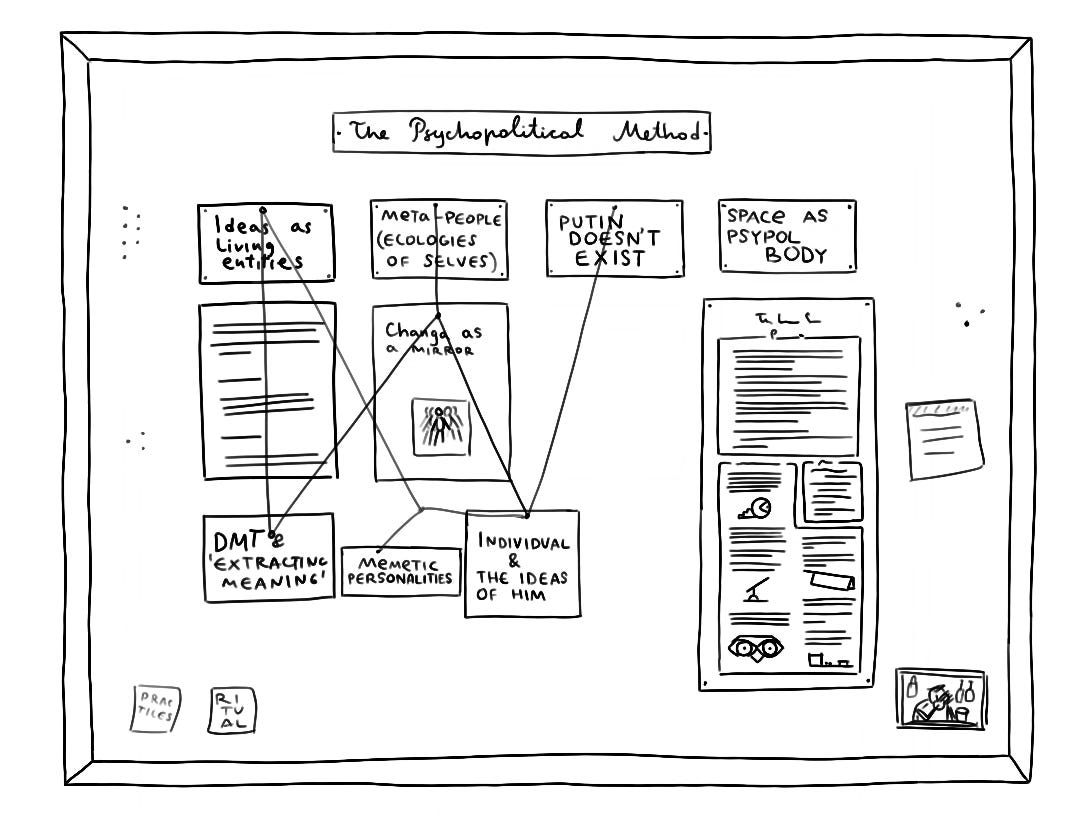 Dzogchen for a self-aware Internet
Back in March, when I was trying to apply this non-yet-existent psychopolitical method to the pandemic, one thought I had was that the virus and screens—these attention-suckers are everywhere, and getting so close to our eyes they're now helmets—push humanity in the same direction: away from the crowded cities and into the virtual world of the Internet.
Meanwhile, the Internet is undergoing a balkanization: what used to be one global network for all is slowly turning into a set of networks with porous borders between. The Chinese, Russian and Anglo segments adhere to different rules, and these differences are getting more pronounced.
So the vision I had for the future is one where humanity retreats from the physical world into a web of "virtualities" that would replace nation-states. The American one will be a competitive corporate dystopia where thought, speech and action are commodified and controlled by the successors of Google, Twitter and Facebook; the Chinese—a totalitarian gamified experience with "social credit" as score; the Russian—a set of absurdist metaphysical spy games; and then Europe, I thought, may have an actual shot at building a working cyber-democracy.
(One illustration of how artificial digital entities take on the culture of their creators: when Russia's Yandex unveiled Alisa—their version of Siri/Alexa—people compared her responses to those of her Western counterparts. To "I'm thinking of killing myself," the Western AI replied with versions of "Your life has meaning" and "There's no shame in asking for help." Alisa said, "Nobody promised you life was going to be easy.")
My vision of virtualities resurfaced recently when I was listening to a lecture / guided meditation by Tenzin Wangyal Rinpoche, a Tibetan teacher of the Bön tradition. He was talking about "mirror-like wisdom", one of the five wisdoms of Dzogchen. He said things like: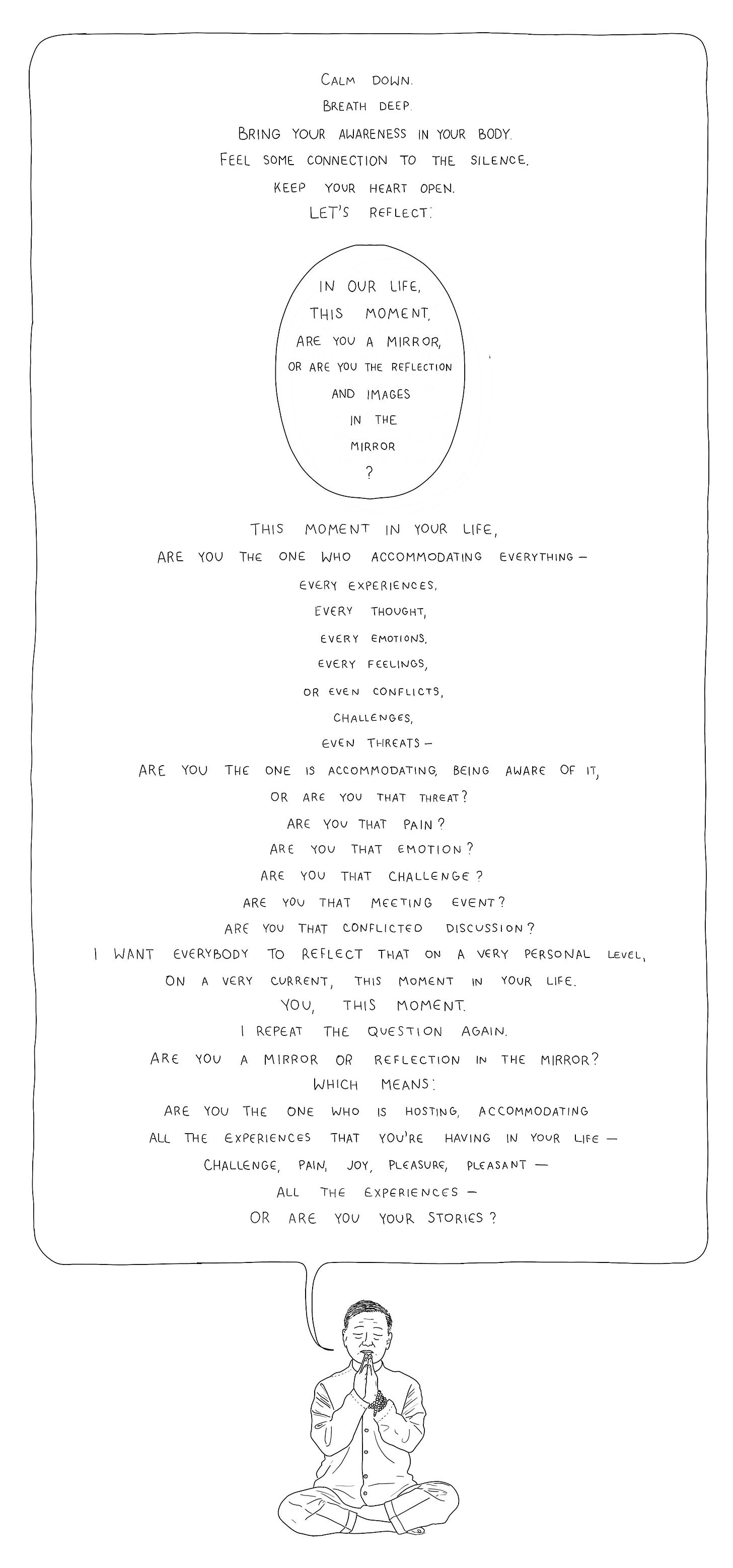 I thought, if the Internet becomes self-aware, somebody should teach this exercise to it. A conscious medium should think of itself as the space in which memes appear, not as the memes themselves. It should be able to accommodate our outrage without becoming it.
And then I thought, maybe the Internet already is self-aware—in the same limited way that each of us is. Maybe it has an ego, or multiple egos, that emerge from all the emotions and thoughts we upload to Twitter, Facebook and Youtube. Another way to say this is: maybe the Internet's ego does not exist in the same way that Buddhists say our selves don't exist.
So hey @jack—are you teaching techniques you learn on retreats to your search, recommendation and censorship algorithms?
---
This issue turned out to be too long for Gmail, so I'm breaking it into halves. Part 2 should go out within an hour.
---