Introducing Psychopolitica 🍄★
God, according to Alex Jones + more
I'm working on a new project. It's a physical, self-pubslished, hand-made little magazine called Psychopolitica.
I'll be publishing work in process here. I decided I'll send the first issue—when it is ready—to everybody who:
subscribes to this newsletter,

shares this post, and

sends me their mailing address (reply to this email or use nikita.s.petrov@gmail.com).
Here are some drafts I can show you today.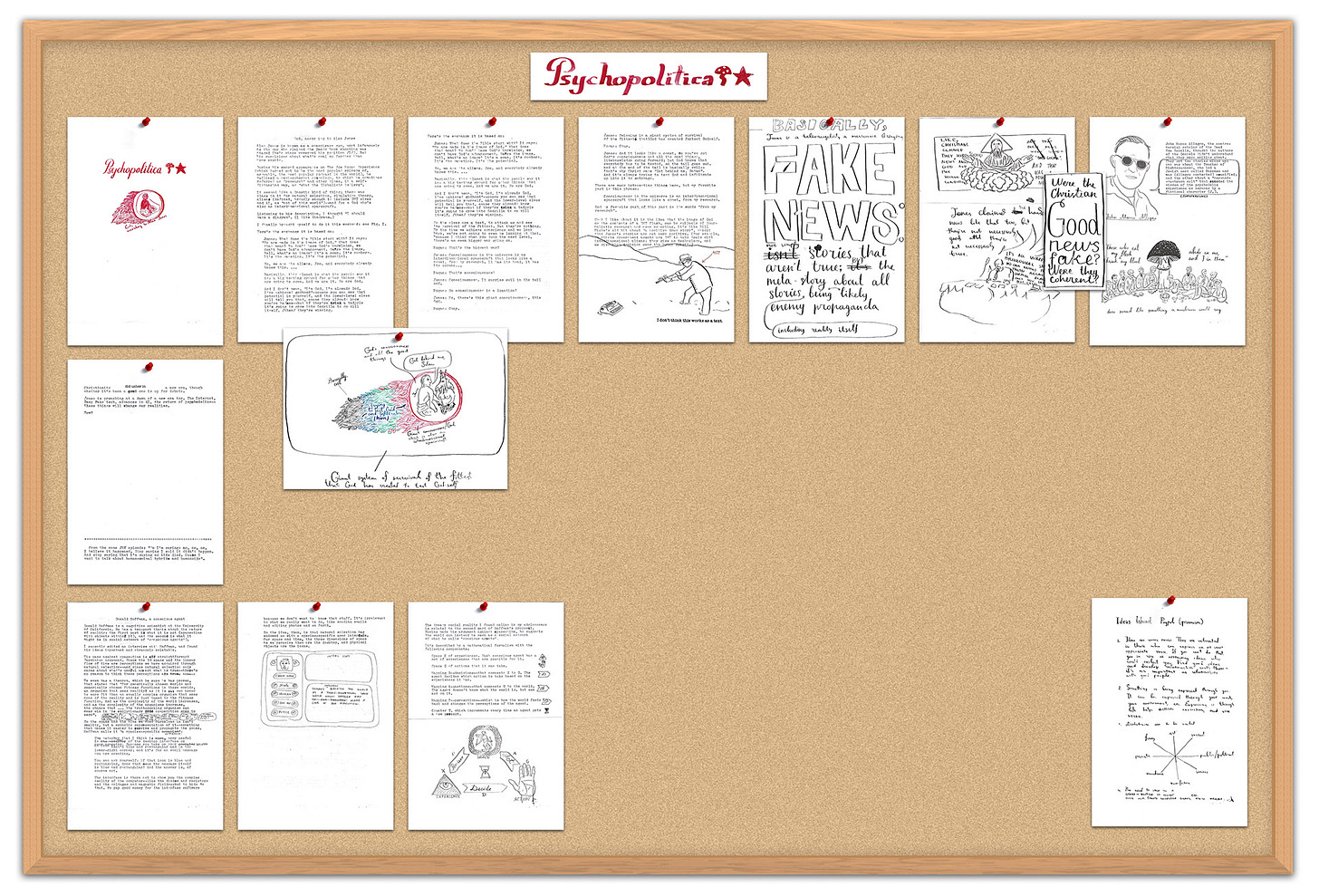 God, according to Alex Jones
"Human beings are like detectives. We look at our world, and we keep looking at it, and we get these feelings that there's more going on than meets the eye. It's a world of clues, a world of mystery."
— David Lynch on 9/11 conspiracy theories
"Why this isn't four-inch headlines on every newspaper on the planet I cannot understand, because I don't know what news you were waiting for, but this is the news that I was waiting for."
— Terence McKenna on DMT
Alex Jones is known as a conspiracy guy, most infamously as the guy who claimed the Sandy Hook shooting was staged (he's since reversed this position*). But his suspicions about what's real go further than news events.
During his second appearance on The Joe Rogan Experience (17 mil views on Youtube) he outlined a semi-coherent cosmology, to which he sometimes referred as "research" and other times, in a self-distancing way, as "what the Globalists believe".
It seemed like a Gnostic kind of a thing; there was place in it for natural selection, simulation theory, aliens (defined, broadly enough to include DMT elves and AI, as "not of this world")—and for a God who's also an interdimensional spacecraft.
Listening to his description, I thought "I should make a diagram". I finally did it this weekend: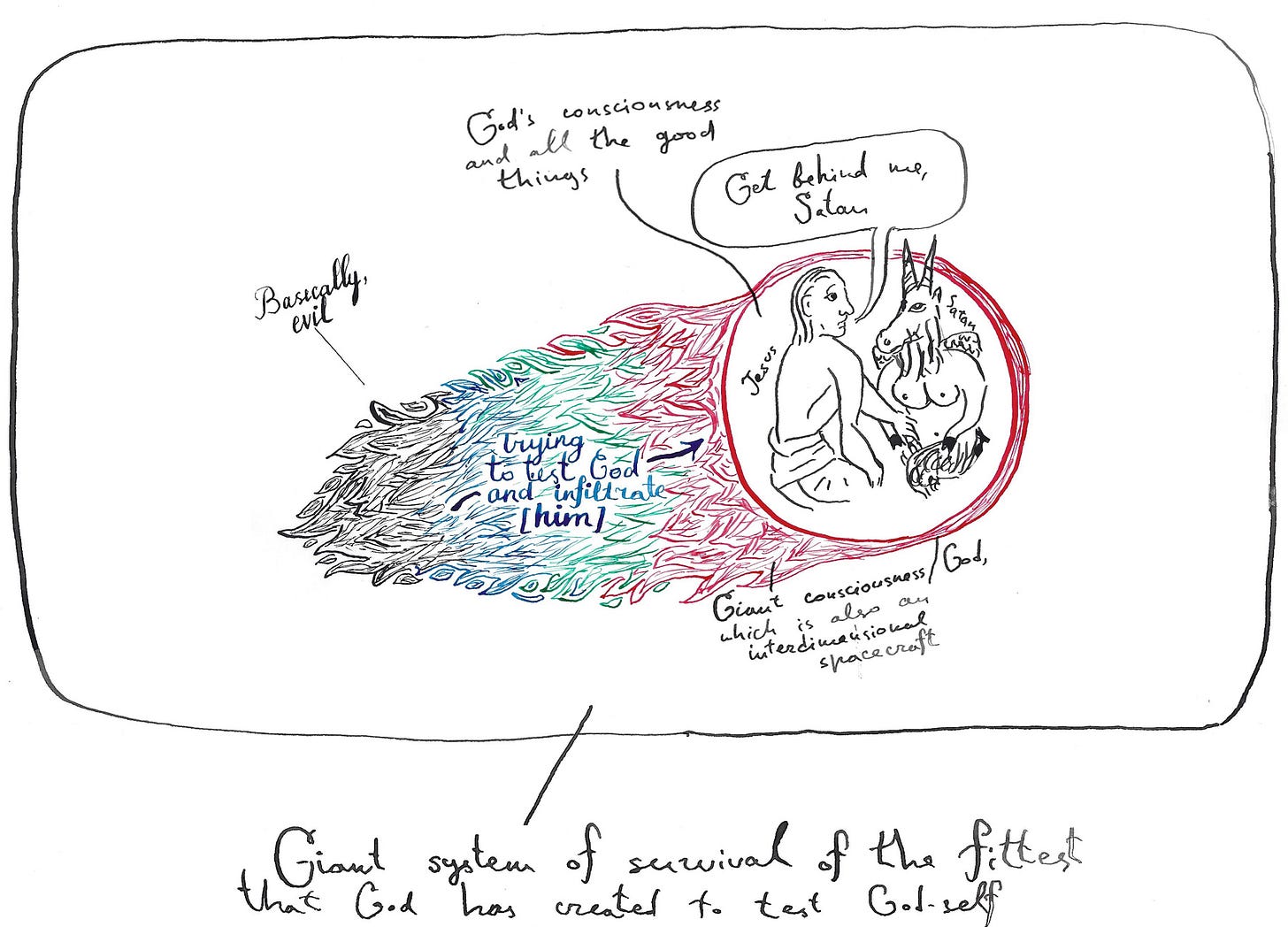 Here's the exchange it is based on:
Jones: What does the Bible start with? It says: "We are made in the image of God". What does that mean? We don't have God's knowledge, we don't have God's advancement. We're the image. Well, what is an image? It's a scan. It's numbers. It's the genetics. It's the potential.

So, we are the aliens, Joe, and everybody already knows this.
(Jones rambles a lot. I'm omitting a paragraph that nests his thesis in layers of uncertainty: "Here's what the elites believe; no one knows the truth; maybe it's a program, I don't know".)
Basically, this planet is what the people say it is: it's a big testing ground for other things that are going to come. And we are it. We are God.

And I don't mean, "Im God, I'm already God, I've achieved godhood"—cause you can see that potential in yourself, and the lower-level elves will tell you that, cause they already know you're badass—but if they trick a tadpole it's going to grow into Godzilla to go kill itself, [then] they're winning.

So the elves are a test, to attack us and see the survival of the fittest. But they're nothing. By the time we achieve conscience and we look back, we're not going to even be looking at that. Because I think when you jump the next level, there's an even bigger war going on.

Rogan: What's the biggest war?

Jones: Consciousness in the universe is an interdimensional spacecraft that looks like a comet, from my research. It has its head, it has its corona…

Rogan: That's consciousness?

Jones: Consciousness. It carries evil in the tail end.

Rogan: So consciousness is a location?

Jones: No, there's this giant consciousness, this God.

Rogan: Okay.

Jones: Swimming in a giant system of survival of the fittest that God has created to test Godself.

Rogan: Okay.

Jones: And it looks like a comet. So you've got God's consciousness and all the good things, the knowledge going forward; but God knows that everybody has to be tested, so the tail goes out. And at the end of the tail is basically evil—that's why Christ says "Get behind me, Satan." And it's always trying to test God and infiltrate up into it to sabotage.
There are many interesting things here, but my favorite part is this phrase:
Consciousness in the universe is an interdimensional spacecraft that looks like a comet, from my research.
And my favorite part of this part is the words "from my research".
What I like about it is the idea that the image of God, or the contents of a DMT flash, can be subjects of journalistic research and news reporting. It's like Bill Hicks's old bit about "a positive drug story", except that Jones's stories are not very positive: he thinks, for example, that government agents use DMT to make deals with the devil (new tech in exchange for freedom of human spirit).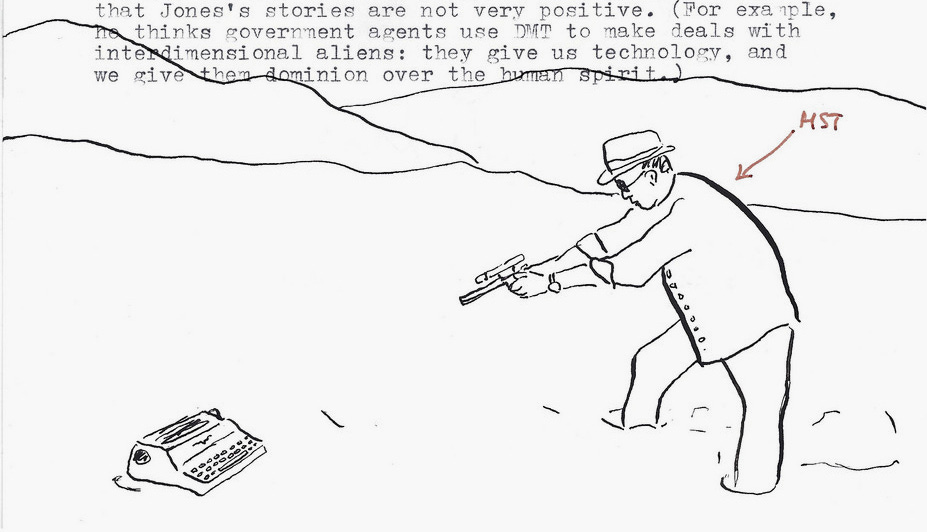 (Here, I realized that text, or at least type, is not the right medium for what I'm trying to express. I'm not building an argument—I'm looking through some kind of a lens and trying to make out what I see.)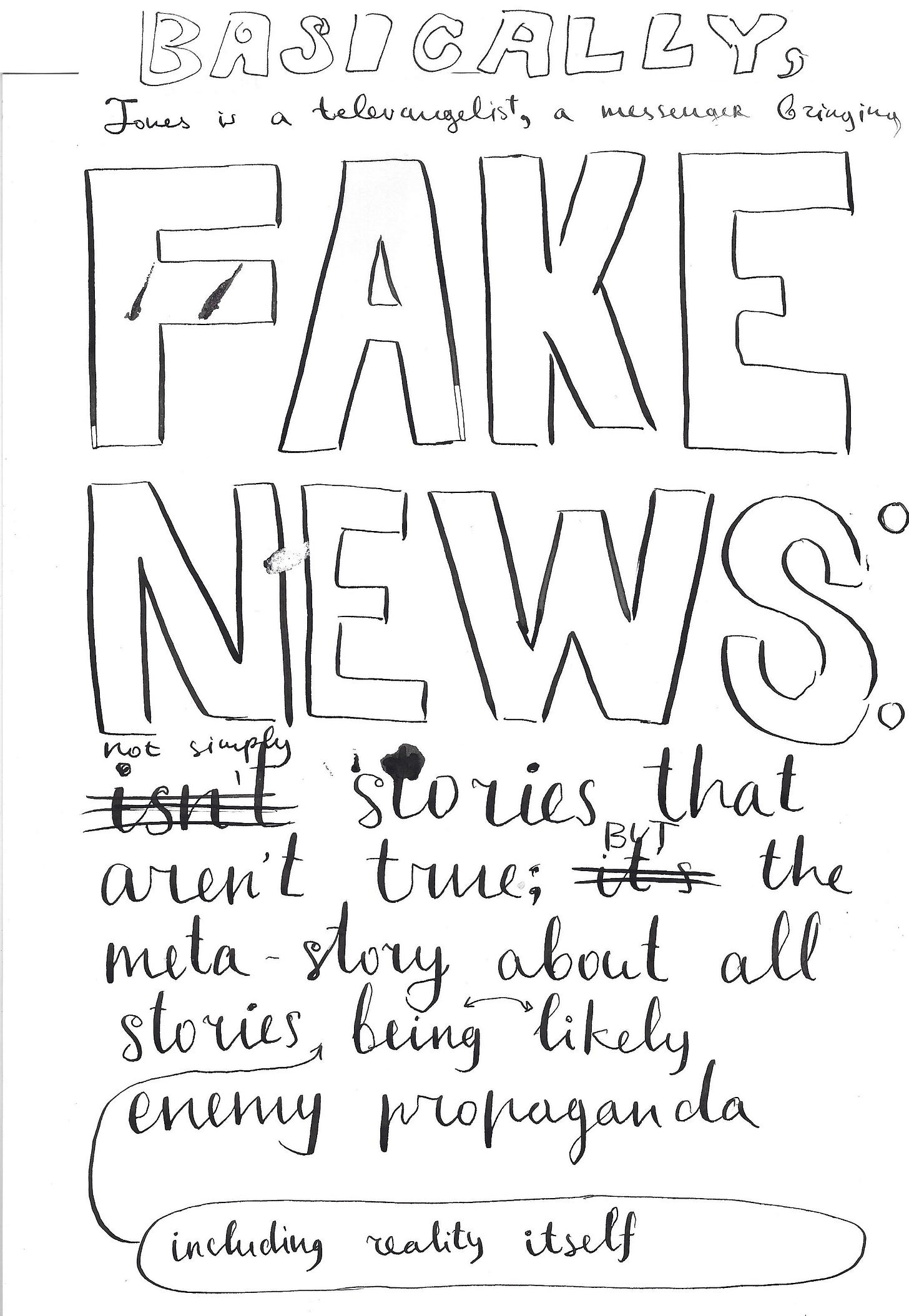 "not simply stories that aren't true (though that too)"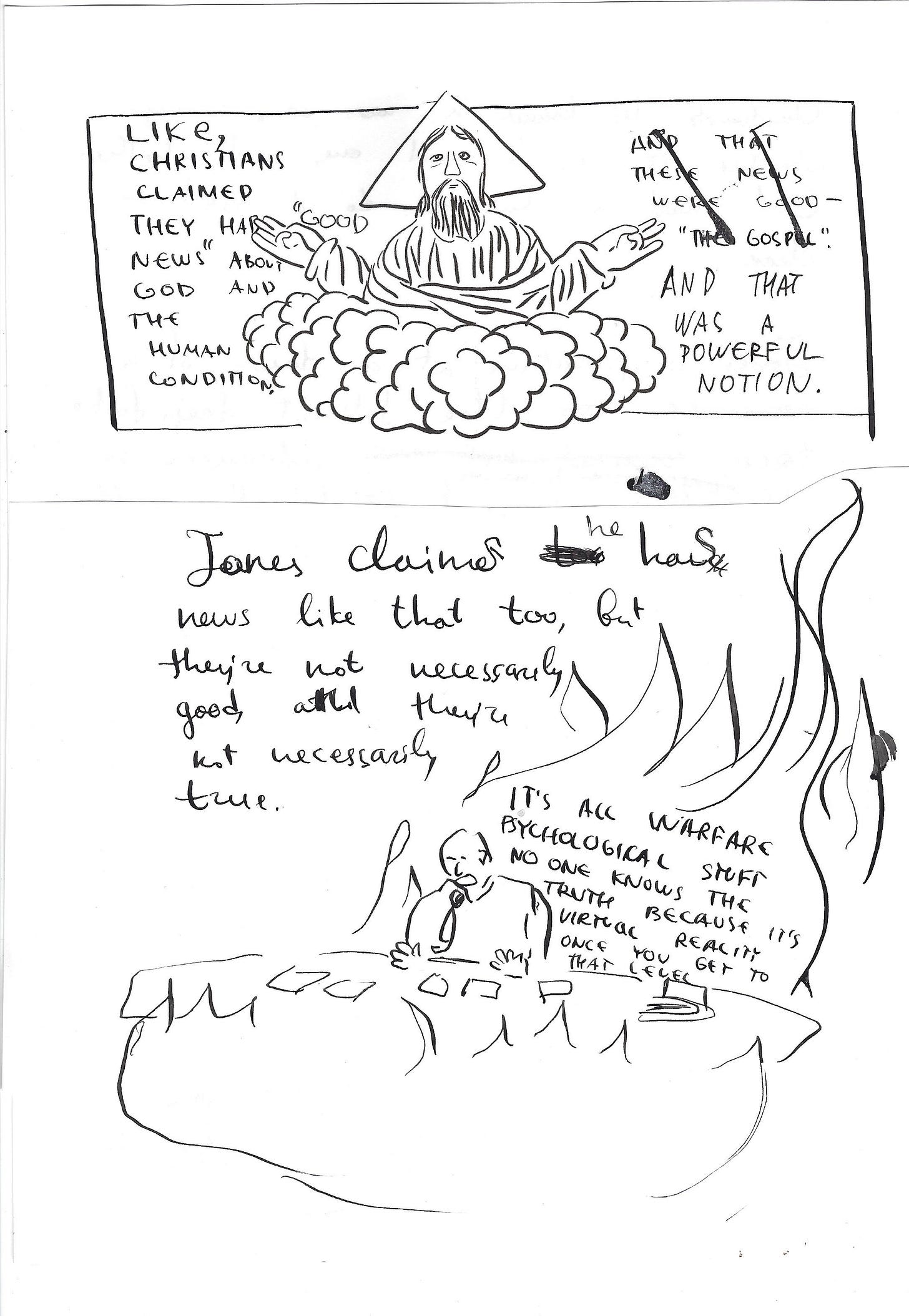 ---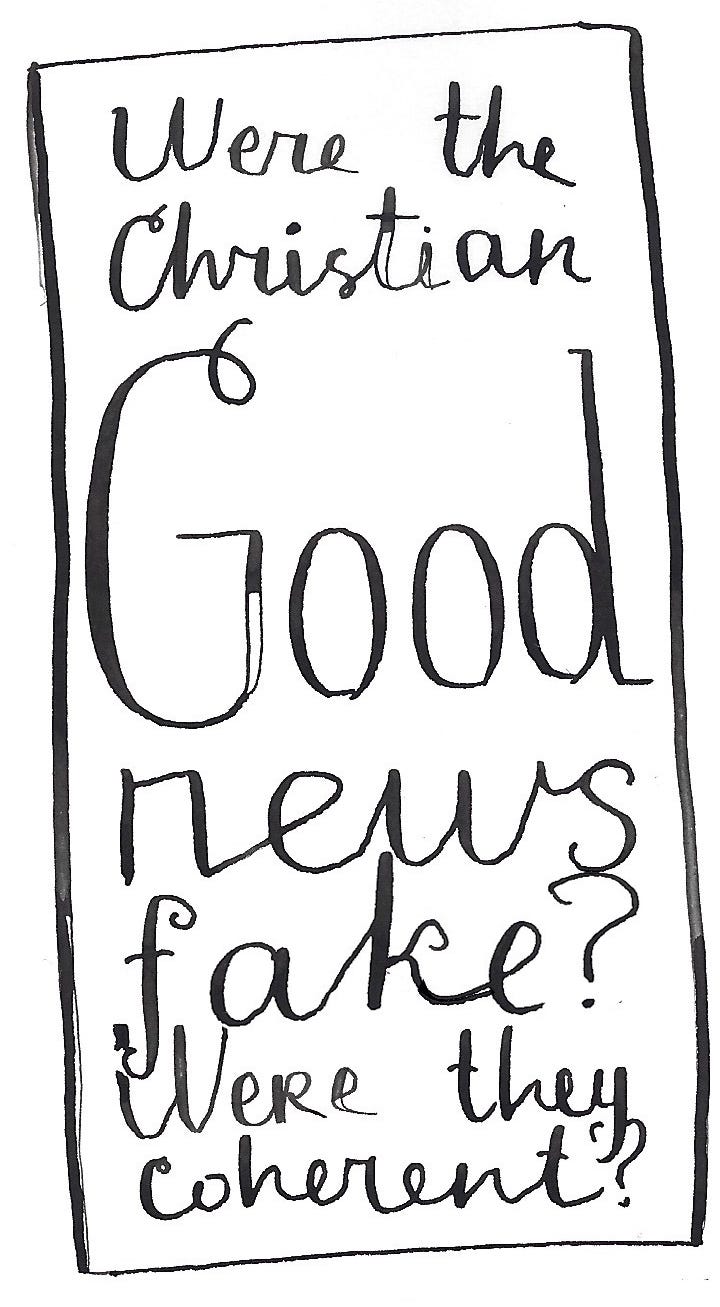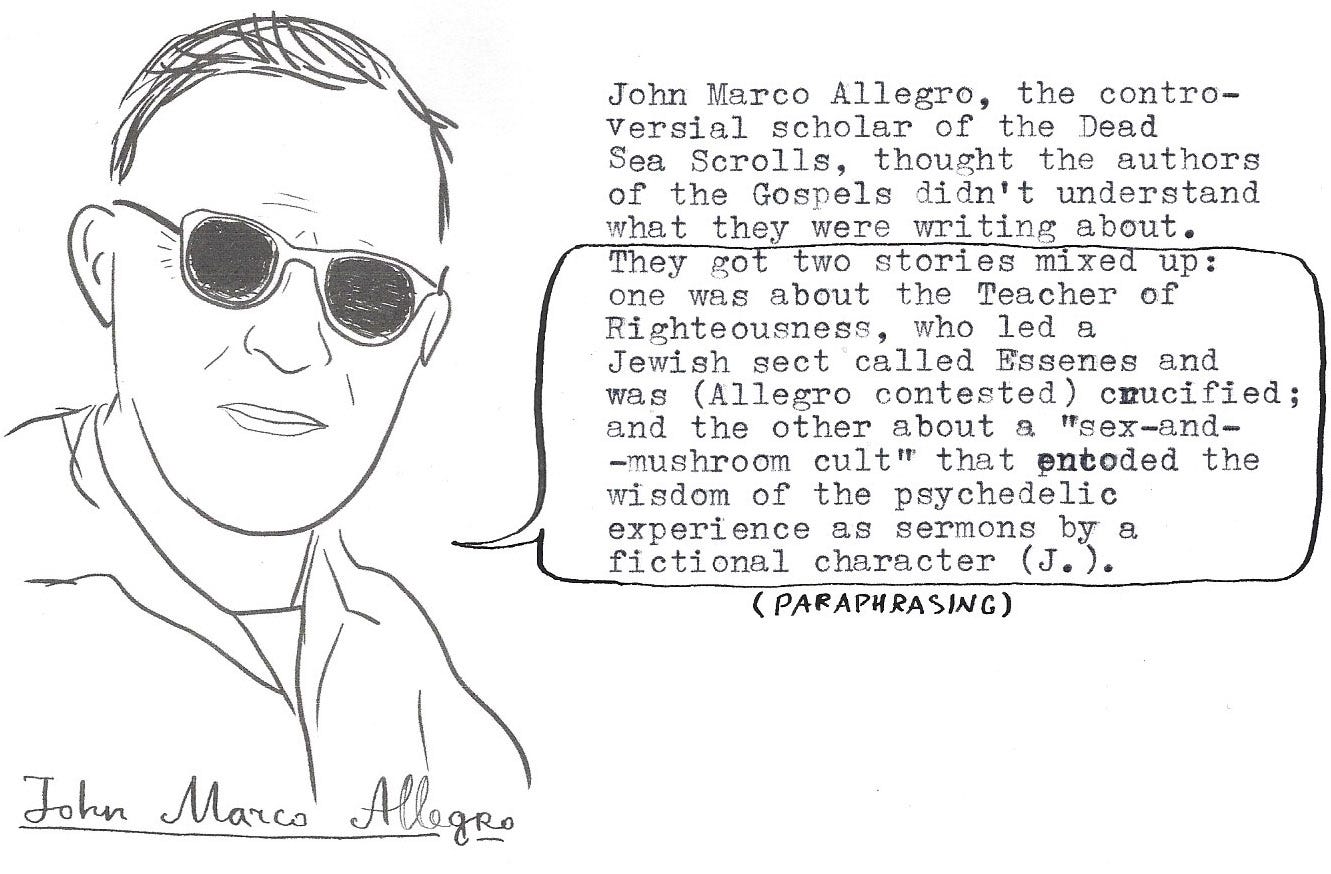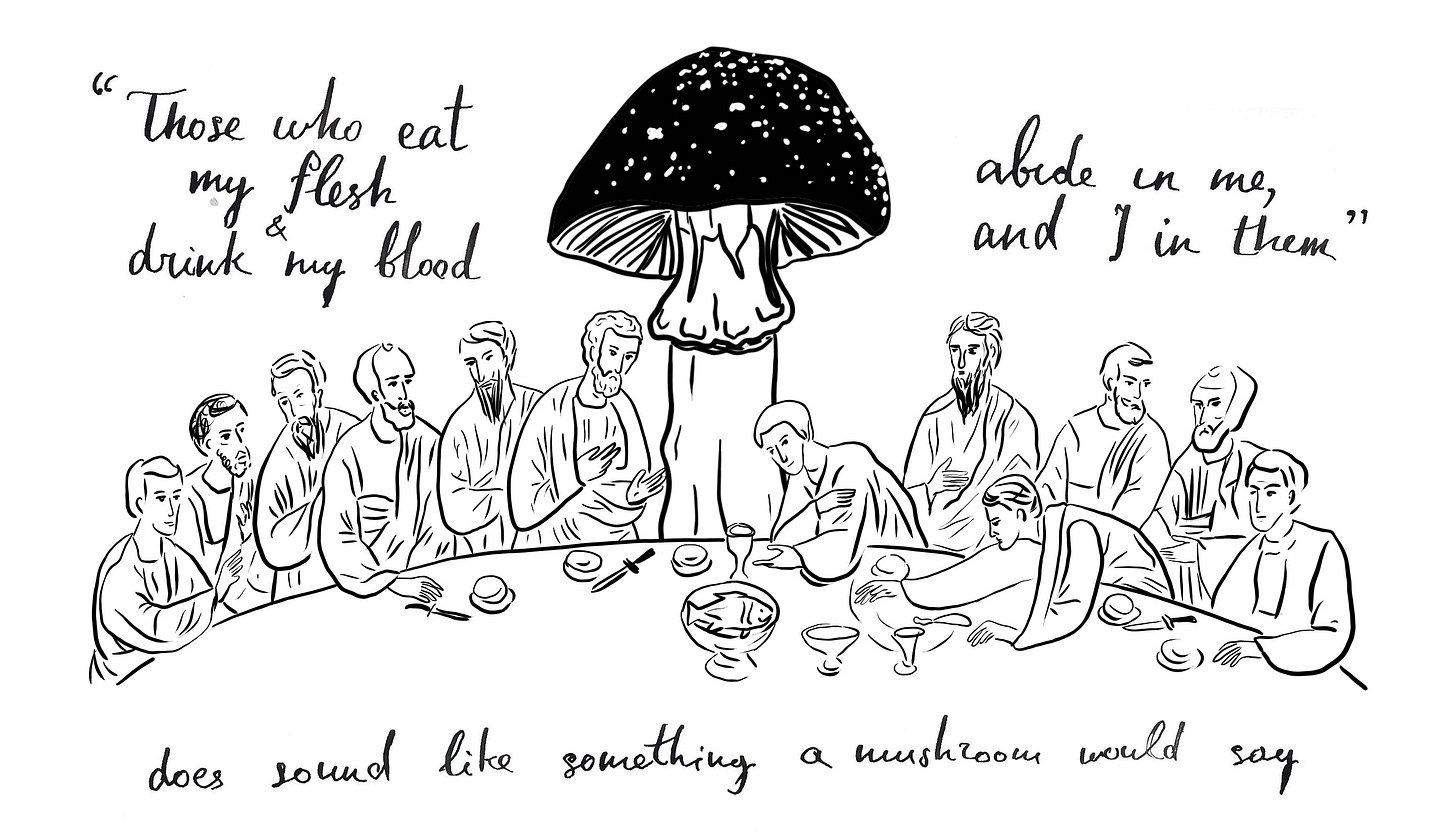 ---
Whatever the case, those Christians did usher in some kind of a new age. (Has it been good?)
We're at a dawn of a new era too.
The Internet, Deep Fake tech, advances in AI, the return of psychedelics } these things are making our reality weirder, less solid, sometimes untrustworthy.
…
---
The Gnostic idea that the world was made by a blind architect (now, "programmer") who mistakenly thought he was God—popular in the first centuries and all but forgotten until the 20th—is being brought back in new wording:
Fridman: When maybe you or somebody else creates an AGI system, and you get to ask her one question, what would that question be?

Musk: "What's outside the simulation?"
An so forth: McLuhan's tetrads ("What does AI enhance, obsolesce, retrieve and reverse to?") … "false prophets" as people who live out no-truth as a principle (Hubbard, Trump, Jones) … American Cosmism (PKD, Lilly, Hubbard, McKenna) … JBP as a preacher opposite to Jones / conspiracy theory about CheKa programming in Russia … "We are doomed to live out the consequences of our taste" … Neoplatonic methods of work … "Functionally effective conscious AI without suffering"… etc., etc.
---
* From the same JRE episode: "So I'm saying: no, no, no, I believe it happened. Stop saying I said it didn't happen. And stop saying that I'm saying no kids died. Cause I want to talk about human-animal hybrids and humanoids."
By the way,
it just occurred to me that the interview I edited and illustrated for last week's issue of The Nonzero Newsletter is relevant to the topic of this one. It's with cognitive scientist Donald Hoffman, who makes a Darwinian argument for reality not being real.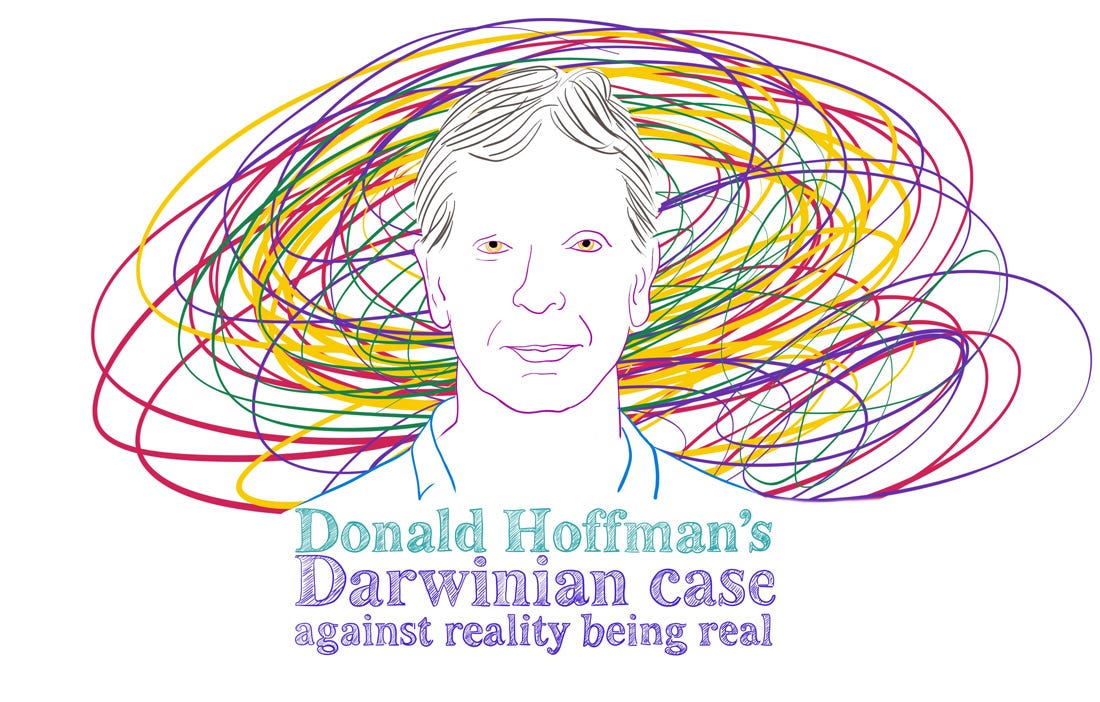 He says that the way we perceive the world—with three dimensions and a flow of time—has evolved as a product of natural selection, and natural selection is not driven by truth or clarity, but by whatever helps genes survive.
If false perceptions are good for propagating the genes, then they will persist; and there's no reason to think seeing reality as it is is good for propagating the genes. So there's no reason to think that the 3D space and time are real:
The metaphor that I think is very, very helpful is the metaphor of the desktop interface on your computer. Suppose you have on your desktop an icon that's, say, blue and rectangular and in the lower right-hand corner of the screen, and it's for an email message you're creating, or a paper you're writing.

You can ask yourself: if that icon is blue and rectangular, does that mean that the email message itself, or the file that you're writing, is blue and rectangular? 

And the answer is, of course not. That's silly. Anybody who thought that the color of the icons on the desktop, or their shapes, or their position … was meant to reflect the true colors and true shapes and positions of the file on the computer, just misunderstands the whole point of the interface. 

The interface is there not to show you the complex reality of the computer, like the diodes and resistors and the voltages and magnetic fields. It's not there to show you that—in fact, it's there to hide that. We pay good money for the interface software because we don't want to know that stuff. It's irrelevant to what we really want to do, like sending emails and editing photos and so forth.

So the idea then is that natural selection has endowed us with a species-specific user interface. Our space and time, the three dimensions of space as we perceive them are the desktop, and physical objects are the icons.
This week's Nonzero has part two of this rap—stranger, more dense, and more interesting.
---
Whenever I hear ideas about time not being real, I think of a dream I once had, in which a DMT skeptic told me that Time is a name of a comedian most known for a prank which everybody admits is brilliant, but also awkward and tiring, because its targets never realized they've been pranked. The targets are us, and the prank is our perception of time.
I once shared this dream in a group chat, and somebody pointed out that this Time character sounds a lot like Koroviev, a character in Bulgakov's Master and Margarita:
It would have been hard now to recognise Koroviev-Faggot, self-styled interpreter to the mysterious professor who needed none, in the figure who now rode immediately alongside Woland at Margarita's right hand. In place of the person who had left Sparrow Hills in shabby circus clothes under the name of Koroviev-Faggot, there now galloped, the gold chain of his bridle chinking softly, a knight clad in dark violet with a grim and unsmiling face. He leaned his chin on his chest, looked neither at the moon nor the earth, thinking his own thoughts as he flew along beside Woland.

'Why has he changed so? ' Margarita asked Woland above the hiss of the wind.

'That knight once made an ill-timed joke,' replied Woland, turning his fiery eye on Margarita. ' Once when we were talking of darkness and light he made a somewhat unfortunate pun. As a penance he was condemned to spend rather more time as a practical joker than he had bargained for. But tonight is one of those moments when accounts are settled. Our knight has paid his score and the account is closed.'
---
In another dream relevant to Jones's enterprise, I got on the wrong train and ended up in a city where there was a game: those who knew they were in a dream were trying to scare others into believing the dream was real.
I didn't know I was sleeping when I first arrived. As I walked past a gathering of "meta-Nazis", I saw one of them smile and nod at me. Over the next few minutes, several seemingly unconnected people (and one small dog) tried to scare me, and this somehow made me suspect I was sleeping.
I eventually ended up on a mountain plateau, where a bunch of travelers were having a picnic. By now, I knew I was dreaming, and I also knew what the scare game was about. I was practicing lucidity by trying to levitate.
In front of me was a cliff, and several kids were playing at its very age. I realized this was a great opportunity for me to make a big entrance into the game: if I pushed a kid off, it would undoubtedly scare everybody who'd see it. But I wasn't sure I want to play this game as it seemed cruel; and more importantly, what if I misunderstood something about the nature of dreams? I could end up actually killing a child.
As I was weighing my doubts, one of the kids looked me straight in the eye. He paused, stopping me in my thought, and then suddenly ran off and leaped off the cliff. It was so unexpected that I got scared for him myself, and a rush of adrenaline woke me up.
My first thought upon waking up was "the motherfucker outplayed me."
---
Again, if you subscribe to this newsletter, share this post, and send me your mailing address, I will send you the first issue of Psychopolitica for free. And if you don't, let God be your judge.