Ideas about ideas
Drugs, propaganda, death throes of consensus reality
The drinking table
When I was 23, I had a total of five good ideas: for a movie theater ad, a politics/history magazine, a video clip for the Russian anthem, a series of postcards, and one more, about a table. Original ideas didn't come to me often, and I was anxious it would be a long time until another good one appears. So I cherished the ones that I had, even though my lack of skills and resources meant I wouldn't be able to realize them.
I created a website called "So here is the idea" and described all five in too much detail. It was an idea about ideas: that if I put an excessive amount of effort into a draft, it could become something more than a draft—something that could exist in the world instead of my head or my notebook—in a word, "content". Not exactly what the ideas had wanted, but the best I could do.
The fifth idea was to cover the surface of a large plywood table I'd just bought at IKEA with drawings of the alcohol I drank at the table—a visual diary of a drunk. I didn't think I'd make this happen because I didn't know how to draw; hadn't tried it since maybe 5th grade. Still, for the site, I traced a photo of a can of beer that was my favorite at the time: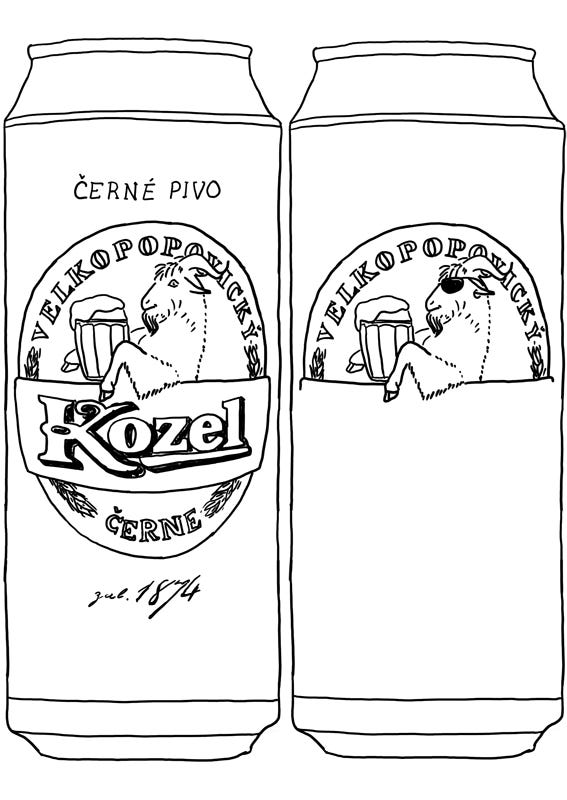 It turned out surprisingly well. I traced another one.

Eventually I did get drunk enough to try to draw on the actual table.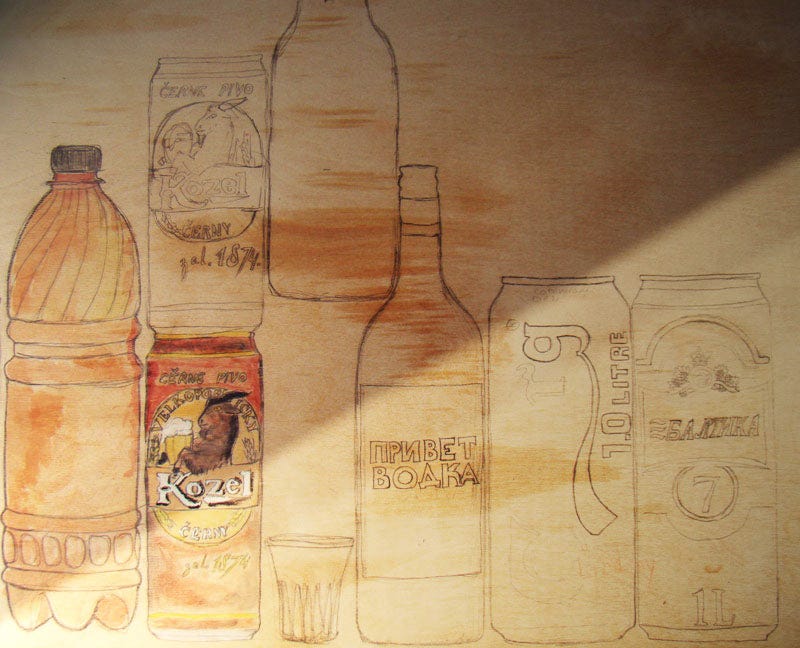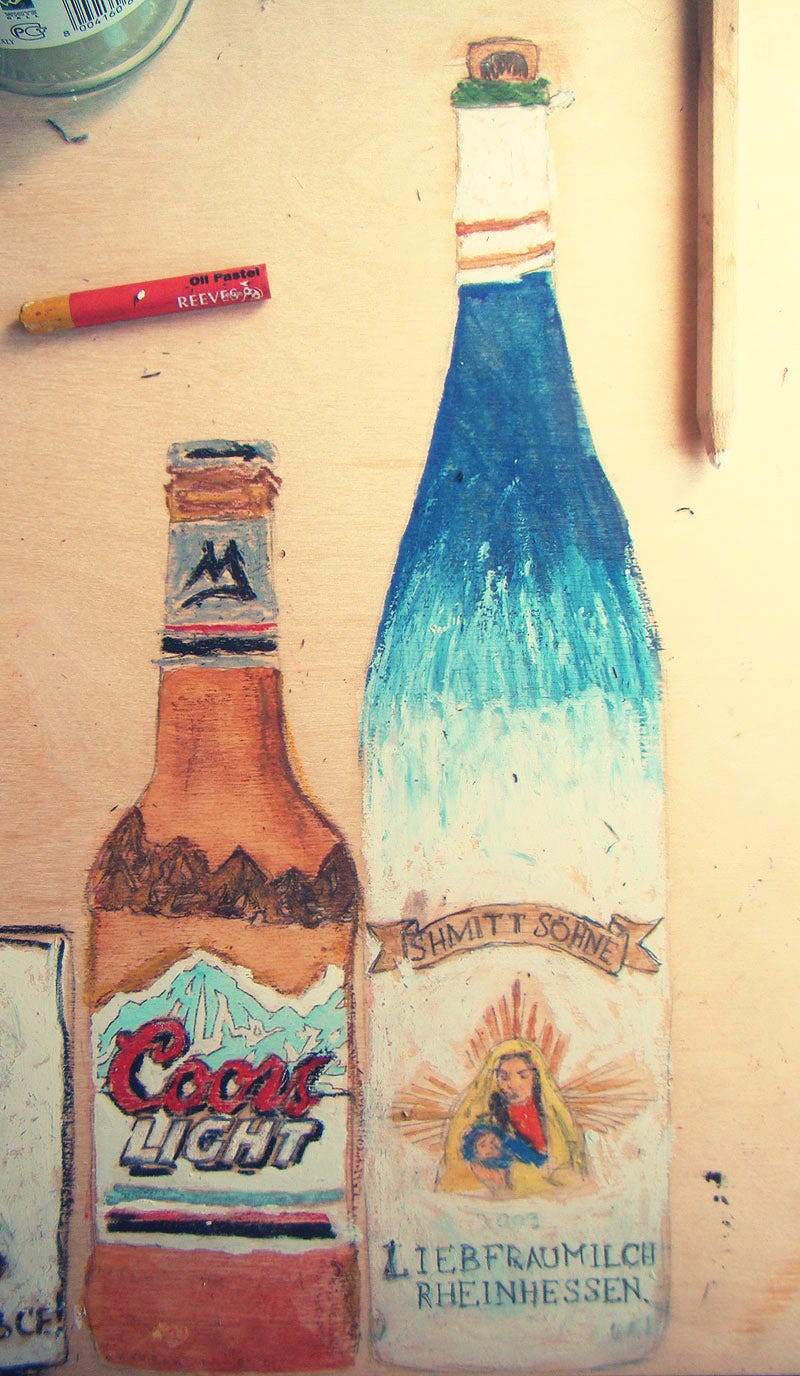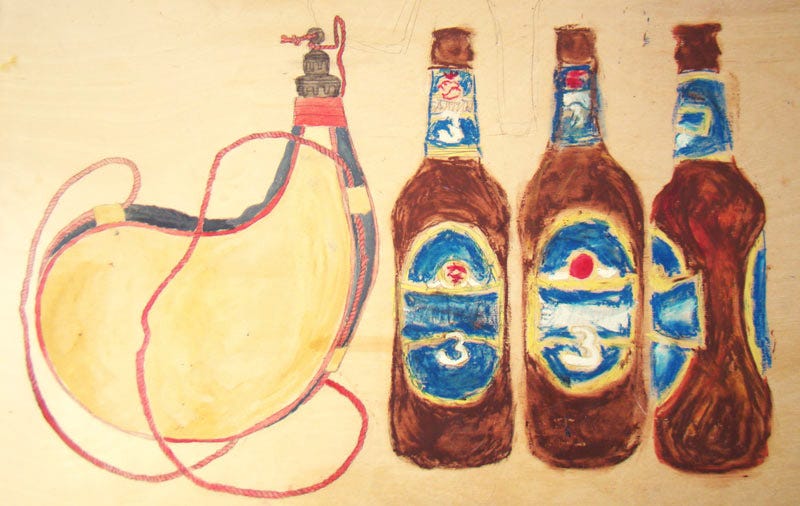 It took more than a year—turns out, drinking is easier than drawing—but I did finish the whole thing. I took pictures of the process and shared them on a Russian social media website; at the end, I put them together into a little video.
One of the people on that site worked in the art business. He was going to open his own little gallery. He really liked the table and offered me the equivalent of $165 for it. I asked for twice as much, and we made a deal. (The price of the table without the drawings was $33.)
So, eight years ago, I knew the exact number of ideas I had, felt goofy about trying to draw, and getting paid for drawing felt like a joke. Now, coming up with ideas and drawing is half of my job description—and my desk and my bookshelf hold piles of paper with sketches, blueprints and plans not related to work. My anxiety about not having ideas is gone (I'm working on the anxiety connected to their implementation).
What made this trajectory possible is my attempt to do the best that I could for an idea I was sure I wouldn't be able to realize (and for four others that I was right about not being able to realize), without a hope of a payoff. If you treat ideas well, they start treating you well in return.
It's a part of an unarticulated philosophy about ideas I've been developing along the way.
The 'little magazine' update
My most recent attempt to turn this philosophy into practice is the The Little Magazine Initiative I announced last week. It's a loopy return of the "So here's the idea" idea: the unfinished magazine provides me with drafts and sketches to share in the newsletter, and this in turn moves the magazine closer to completion.
I'm continuing to work on the Alex Jones thing, which is turning, disregarding my intentions, into some kind of an absurdist drama about the transformations, the breaking apart, and the possible disappearance of the Western consensus reality. (Russia has gone through something similar when the Soviet reality has ceased to exist along with the Soviet state—a process best documented in Generation P and Buddha's Little Finger by Victor Pelevin, two quintessential Russian novels of the 1990s.)
I am not casting Alex Jones as a positive character—a critique a good friend gave to the first draft—but I am, so far, staying away from explicitly putting him down as a negative one. My point is that he is, like Trump, a character relevant to the story, and that gives them more power than being good/bad would've. As the common man's reality's becoming more fractured and incomprehensible, narratives of confident incoherence suddenly feel authentic and start to gain power.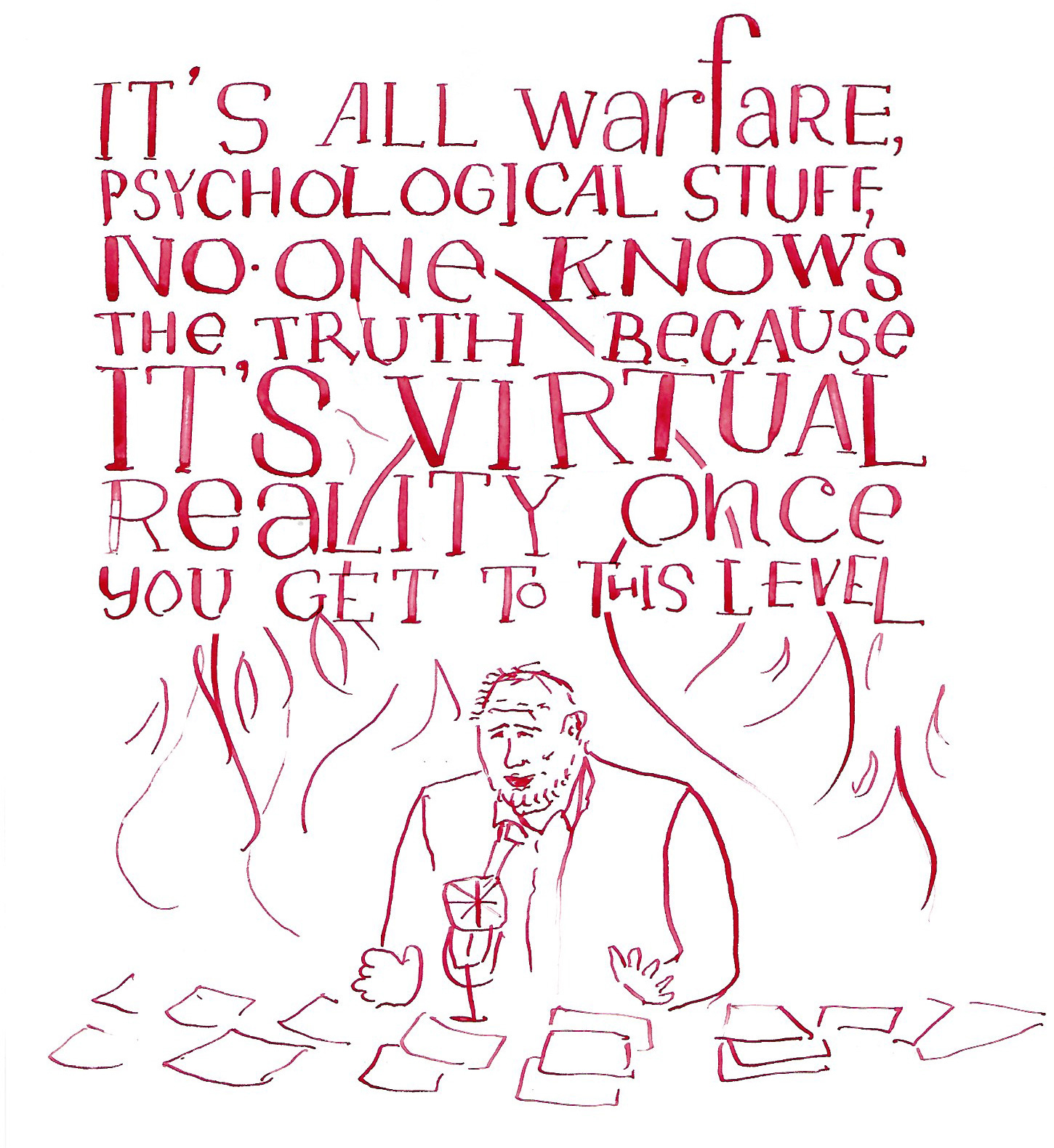 A possibility I'm not necessarily comfortable with is that two more characters are going to enter the picture as counterparts to the Trump-Jones tandem.
One is Jordan B. Peterson, a preacher from a rival tradition, a fan of complete sentences who seeks meaning in everything and truth in all stories (so, Jones's opposite in many ways), who has recently returned from a journey to the Underworld—eight winter days in a chemical coma in a Russian rehab facility—and hasn't been heard since (which is important, because "speaking truth publicly" is both the foundation of his method and the origin story of his reality: in Genesis, he points out, "God spoke the world into being").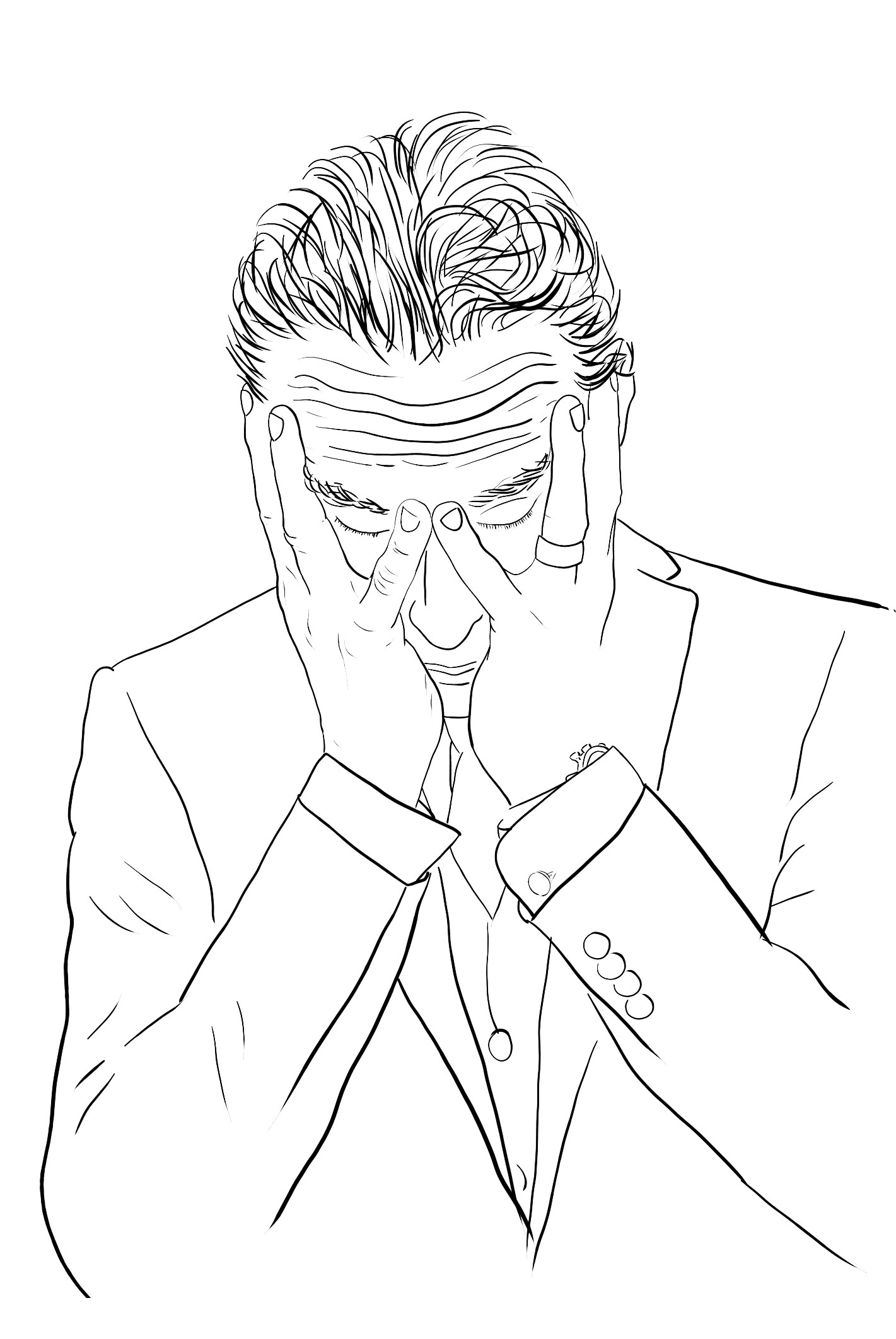 The other is Vladimir V. Putin, a special agent of a state that doesn't exist anymore, but could possibly be resurrected. He's similar to Trump in some ways—they both like power, both work with perceptions more effectively than with facts, both show signs of magical thinking—and is the opposite in some others: not a crowd pleaser, doesn't use the Internet or a smartphone, is orderly and reserved. Trump is disrupting existing American order, Putin is designing a new Russian one out of the elements of the post-Soviet, Soviet, and Imperial periods—with himself as the Oligarch, the Gensek, and the Tsar.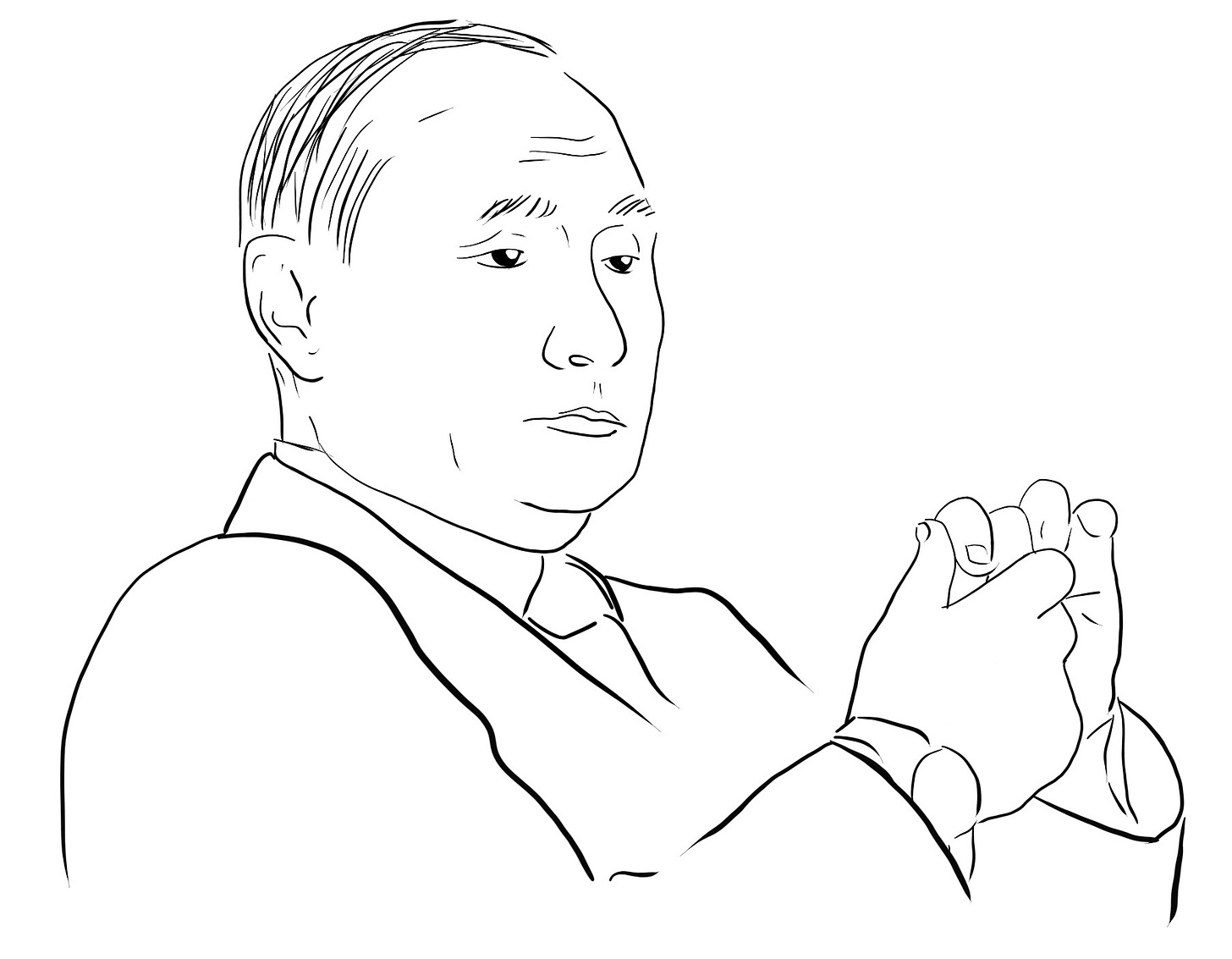 I really wasn't planning on any of this. I only wanted to make one diagram—God, According to Alex Jones—and this diagram has been changing as well: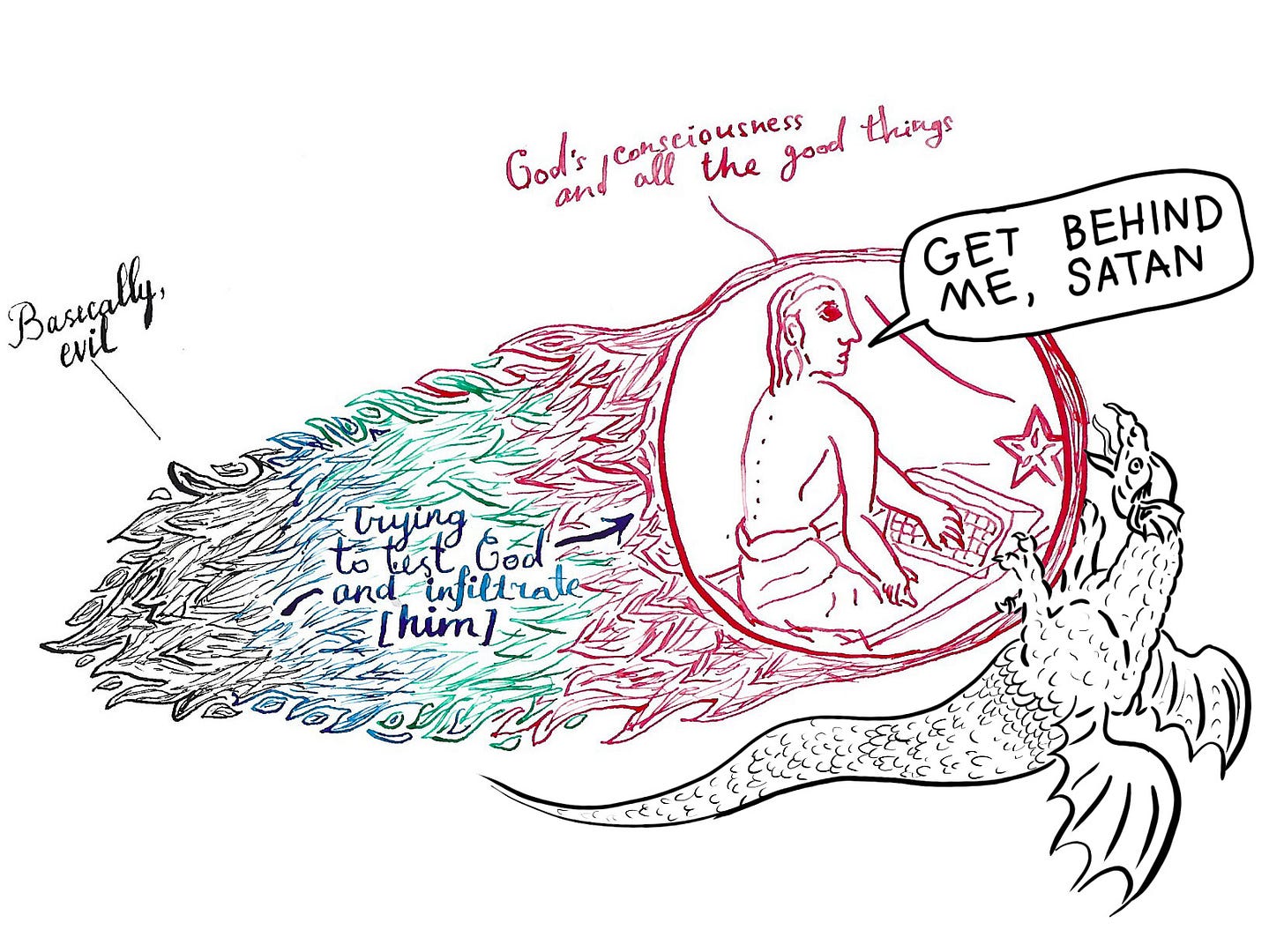 ---
There are two more things I'm working on apart from the monstrosity (I say lovingly) that I just described.
One is a framework to think about ideas—the unarticulated philosophy I have mentioned above—and how it applies to Psychopolitica. Here's one of the notes on it: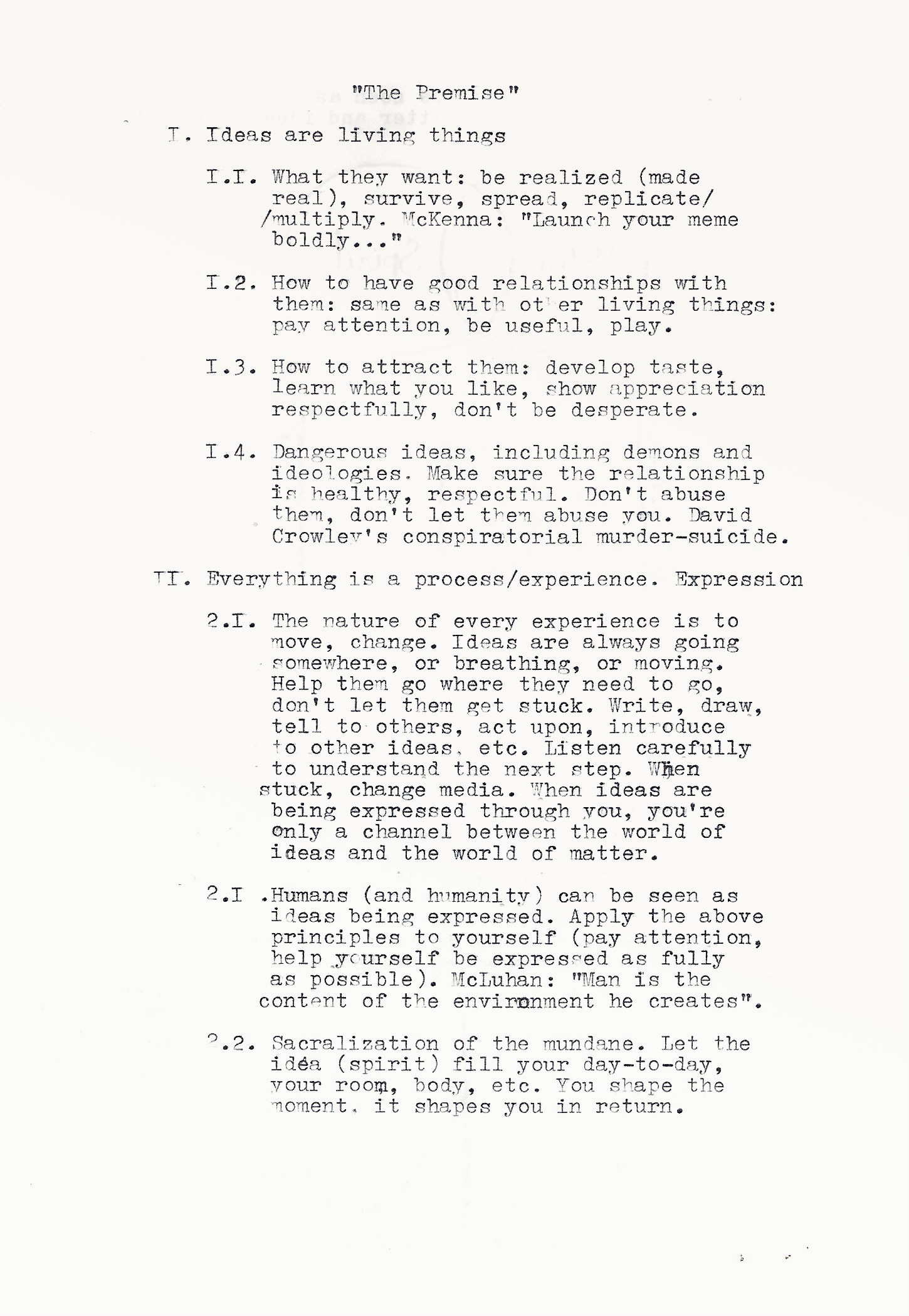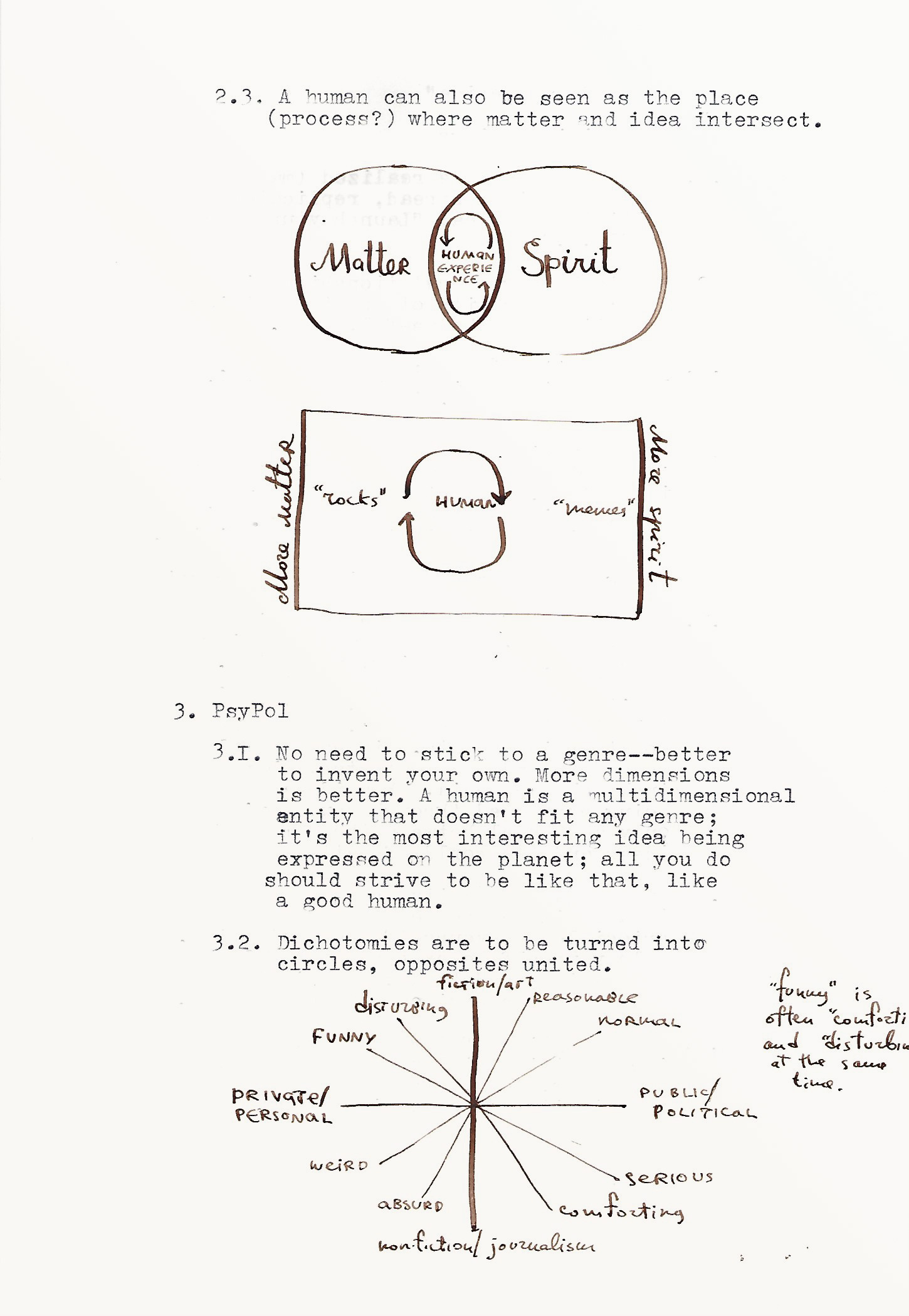 The other has to do with Donald Hoffman's theory of conscious agents. Even the first draft is far from being completed: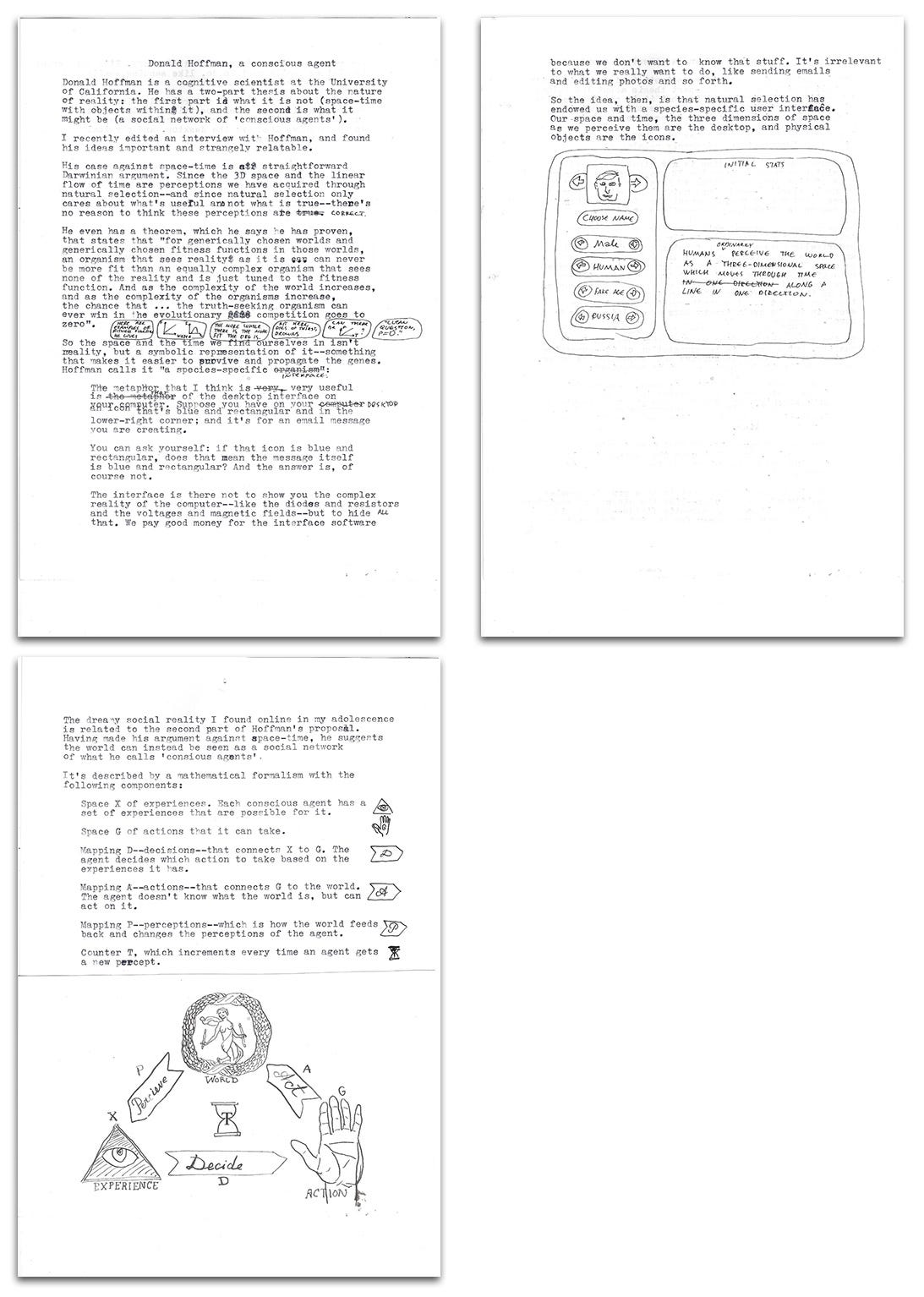 The next thing I'm planning to work on is making this newsletter shorter.
---
Propaganda and love
In 1900, Vladimir Lenin founded an underground newspaper called Iskra ("The Spark"). It was through publishing and distributing this newspaper—secretly and illegally—that Lenin banded his core supporters together, developed a system of agents willing to risk for the cause, established himself as the voice of the revolutionary movement, and raised a ton of money for his political work. The newspaper itself mattered less—it never was popular—than the work process around it.
Now, I am not trying to do anything of this sort. Still, I remembered this story when I received the first letters with addresses to send the physical incarnation of Psychopolitica to. I thought the idea of mailing magazines in exchange for linking to the newsletter (that's the deal I proposed last week, and it stands for this post too) was largely about propaganda—that is, propagation of the newsletter—but it's actually about human connection.
I didn't anticipate that the emails would also include kind words. And kind words plus the addresses gave me a felt understanding that there are people, with names, in particular countries and cities, who like what I'm trying to do enough to become a part of it. So, thank you to Colin, Bill, Ed, Christian, Laura, Sergey, Stephanie, Erik, Dan, David and John.
(The propaganda part is working too though. We've crossed the very important 100-subscribers threshold.)
---
Fish dinner
My friend Kostia once went to a wedding in Rostov-on-Don, a city in the south of Russia. The wedding photographer was a beautiful red-head. They liked one another, and, in a few months, he abandoned the philosophy degree he was working towards in his hometown and moved to Rostov. He opened an independent bookstore called "42", got married, and eventually became a skillful photographer through helping his wife.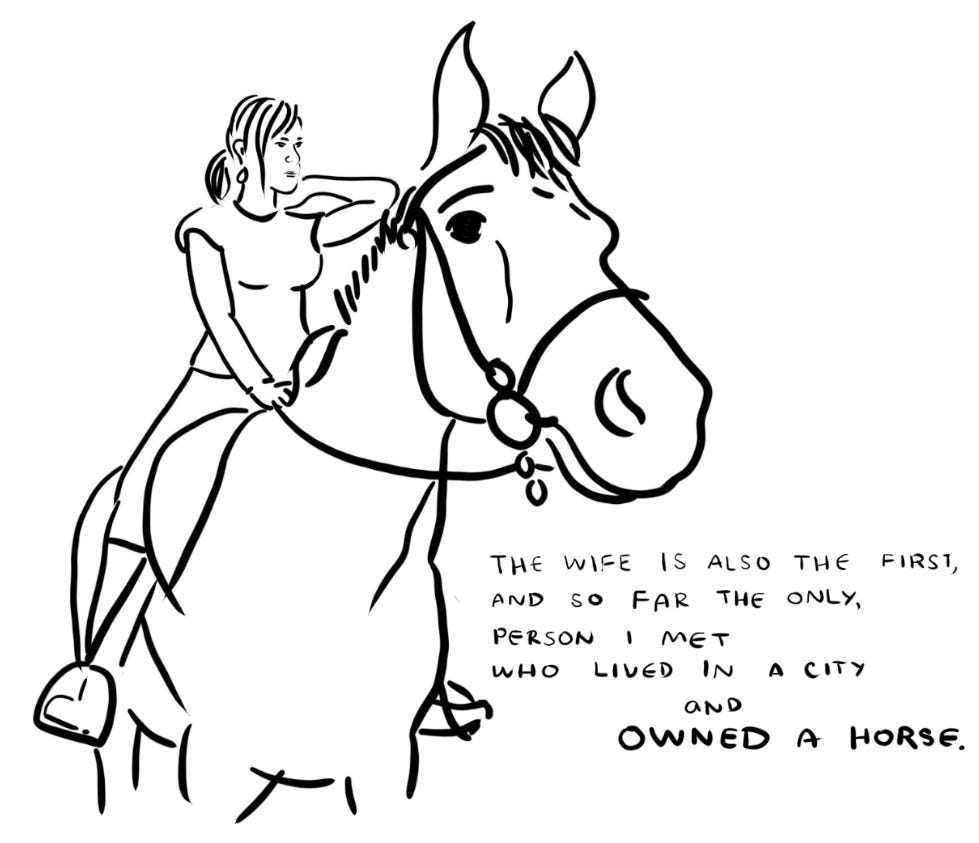 This used to be my go-to inspirational story, until Kostia's bookstore went bankrupt and marriage fell apart. He found himself in a city he never liked to begin with, without a job or profession, or a woman, or friends, or overall prospects.
This was some years ago.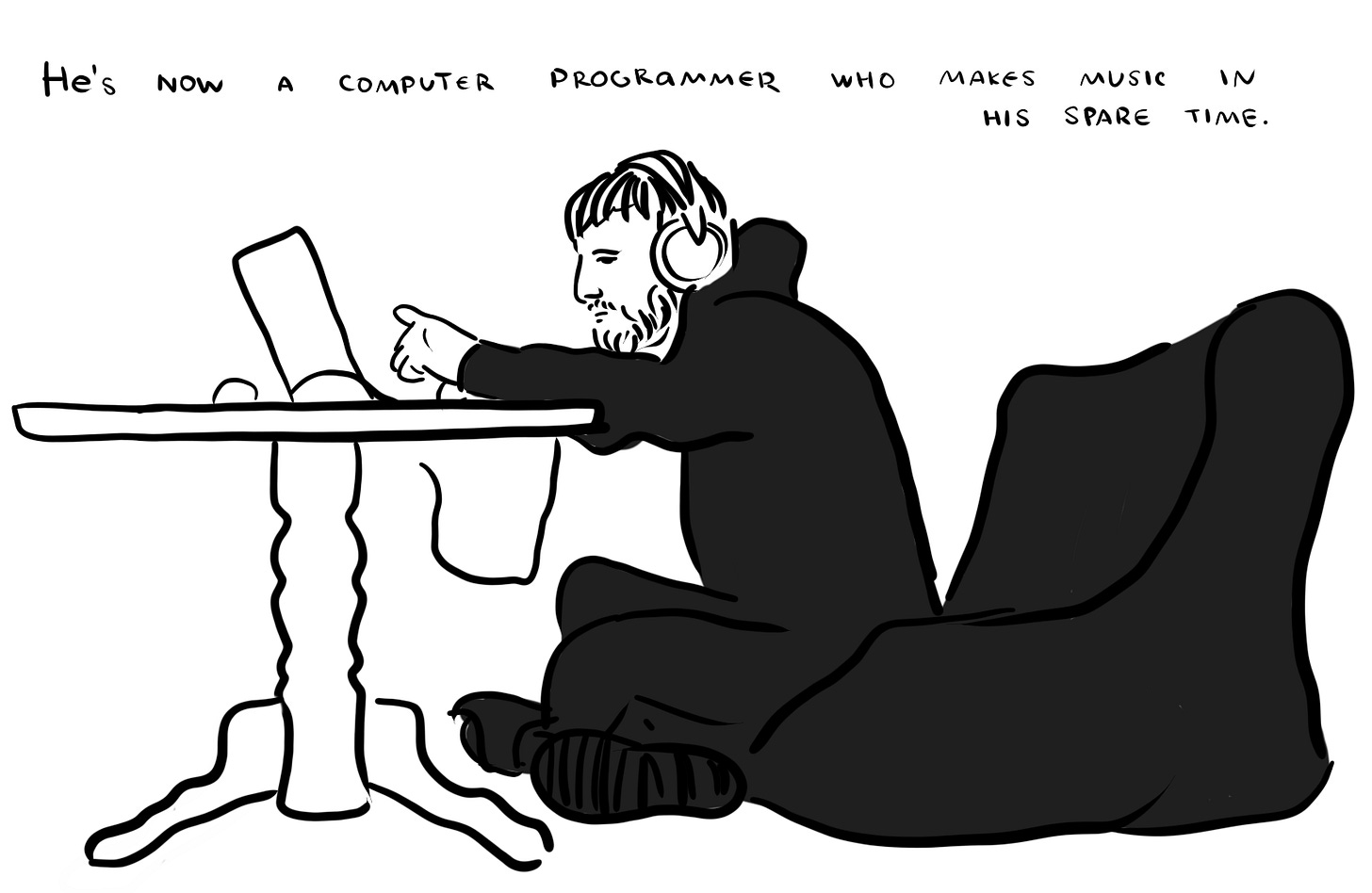 Last year, I sent Kostia a clip of Terence McKenna, suggesting that he makes a music track out of it and then I make an animation based on that. He did his part, but I failed to do mine.
Today, after writing about ideas, I thought I should return to this one and make at least a few sketches—you know, do what I can.
So here's Terence McKenna on the psychedelic experience and how it relates to ideas.
---
There's also this conversation I had with my friend, science writer John Horgan back in July 2019, which just got posted on Youtube. I'll likely write out some of the things that we've said here in the future issues of this newsletter.
---
Reminder
If you subscribe to the newsletter, share a link to it, and send me your mailing address, I will send you the physical issue of Psychopolitica (when it is ready) for free.
I will also be very happy to receive any feedback or questions at nikita.s.petrov@gmail.com.
OK, now—over and out.